Valley native in 'Phantom' sequel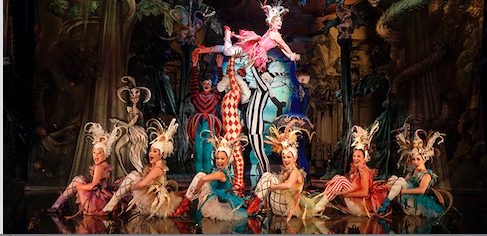 ---
By GUY D'ASTOLFO
"Love Never Dies," the sequel to Broadway mega-smash "The Phantom of the Opera," is finally touring North America, and Youngstown native Natalia Lepore Hagan is part of the cast.
The musical – like the original, composed by Andrew Lloyd Webber – picks up 10 years after "Phantom." It is set in New York City's Coney Island in 1907, where the Phantom again attempts to be with his true love, the opera singer Christine Daae.
It will begin a five-day run at Pittsburgh's Benedum Center on Tuesday, and then moves to Cleveland's State Theatre from Jan. 9 to 28. Hagan is part of the ensemble.
For Hagan, being part of the original North American cast of a Lloyd Webber musical is especially personal. The theater legend's shows were the lure that led her into a career as a Broadway performer.
"I was a big fan of 'Phantom of the Opera' as a child," she said during a phone interview last week from a tour stop in Providence, R.I. "I still get giddy when [the Phantom] runs by me on stage [during 'Love Never Dies']."
She briefly met Webber at the show's opening performance in Detroit in October.
"Andrew Lloyd Webber and [lyricist] Glenn Slater were at our opening," she said. "I had tears in my eyes at the end because I couldn't believe the feeling of being in front of thousands of people and taking a bow with Andrew Lloyd Webber."
She introduced herself to Webber that night and handed him a note she had written that expressed her appreciation for his musicals and their effect on her life.
"I first knew that I wanted to be on Broadway as a child when I saw 'Evita' at Youngstown State University," she said. "All of his shows were my favorites – 'Jesus Christ Superstar' and 'Cats' and 'Joseph.' They created who I am as a performer, and to get the chance to tell him that was exhilarating."
The North American tour will run through November. Its future after that is not yet determined, but Hagan said she is hoping it makes the jump to Broadway.
"Love Never Dies" premiered in 2010 and has been produced worldwide, including a West End run in London.
Its plot is a continuation of "Phantom" but in a vastly different place.
After the mysterious deeds in Paris at the end of the original musical, the Phantom has escaped to a new life in New York where he lives among the joy rides and freak shows of Coney Island. He has found a place for his music to soar in this garish world, but has never stopped yearning for Christine, who has become a world-renowned soprano.
Christine accepts an invitation to travel from Paris to New York to perform at an opera house. Her marriage to Raoul is suffering at the hands of his drinking and gambling.
In a final bid to win Christine's love, the Phantom lures her, Raoul and their young son, Gustave, from Manhattan to the glittering world of Coney Island.
Hagan described the show as "very relatable" and said it is a box-office success.
"One fan in Fort Lauderdale went every night, and then drove to Orlando to see it again," she noted.
More like this from vindy.com