Novelis receives $4.5M for major expansion to continue long history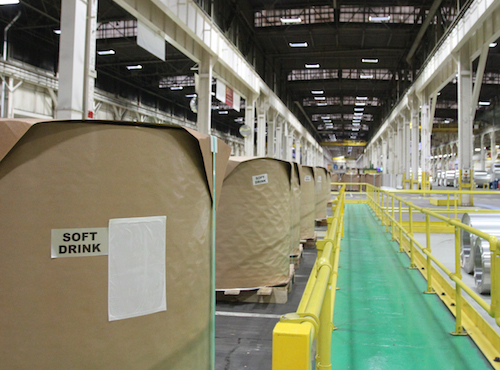 ---
By Kalea Hall
WARREN
Novelis is a plant that cannot be missed.
The 429,500-square-foot plant sits on 19 acres along Griswold Street.
The plant, which applies finish to aluminum for the beverage industry, also makes a sizable financial impact to the area with nearly $7 million in wages and benefits, $570,000 in payroll taxes and $65,000 in property taxes.
The company will now be able to sustain its noticeable impact through a $4.5 million investment from its parent company in state-of-the-art technology that will provide versatility, improve operational efficiency and reduce costs.
"Due to a steady U.S. can market and strong financial performance across the globe, we are making the investments necessary to sustain the Warren operations for many years to come," said Paul Nelson, Novelis plant manager.
Novelis in Warren is a part of Novelis Inc., a global aluminum rolled-products company and a large recycler of aluminum. Novelis, which operates in 10 countries, has about 11,000 employees and reported $10 billion in revenue in fiscal year 2017, is a subsidiary of Hindalco Industries Ltd., a metals company of the Aditya Birla Group, a multinational conglomerate based in Mumbai, India.
In the U.S., Novelis has eight manufacturing plants.
In Warren, 75 employees at the plant work to apply finish to aluminum for major beverage companies including Coca-Cola, AB InBev and PepsiCo.
They apply a coating to rolled aluminum sheet. That sheet is then used for production of lids for the tops of aluminum beverage cans – producing enough for more than 1 billion beverage can lids each month. This is Novelis' only can-coating operation.
"When I started here, the coating ran at 300 feet per minute," said Nelson, who has been with the company for 36 years. "Currently, we are at 900 feet per minute. We are one of the fastest can-coating lines in the U.S."
Parts of the Novelis plant date back to 1917 and even before. In 1917, a major expansion at the plant took place for the Warren City Tank & Boiler Co., which manufactured railroad tanks and boiler tanks.
In 1943, the plant received another expansion of 162,000 square feet. During the war, the Navy used the plant. Landing crafts and welded tank type pieces of equipment were made there.
After more additions and different owners, the plant was purchased by Alcan Aluminum in 1965. Alcan made a 72,000-square-foot expansion and expanded operations.
Novelis purchased the plant in 2004.
The company's new equipment will be installed in July.
More like this from vindy.com