Reinvent Youngstown, Brown urges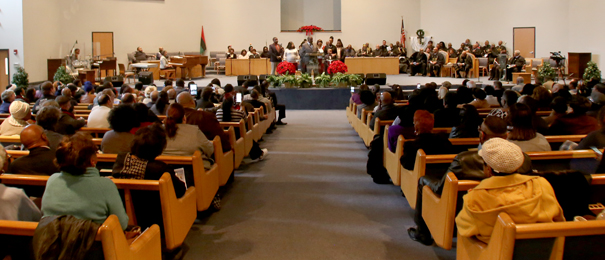 ---
YOUNGSTOWN
It will take everybody working together to unite and reinvent Youngstown, said Jamael Tito Brown after being sworn in as the city's 51st mayor Saturday afternoon during ceremonies at New Bethel Baptist Church.
The Hillman Street church was packed with people who came to witness what the Rev. Kenneth L. Simon, church pastor and host of the ceremony with the Rev. Michael Harrison, called a "historic moment in the city of Youngstown and celebration of what God is doing in our great city."
In addition to Brown, sworn in by Youngstown Municipal Judge Carla J. Baldwin who's made history as the first black female elected to that position, were DeMaine Kitchen, city council president; and Sarah Brown-Clark, re-elected as Youngstown municipal clerk of courts, all of whom will take office officially Monday.
"Lift up these newly elected officials and cover them in prayer," the Rev. Mr. Simon said.
Kitchen, who thanked God and his family, said there are "certain forces that turned this community upside down, and that force is you. You stirred up the winds of change and we need you to help turn this thing around."
In addition to thanking his family for their "sacrifice and dedication," Brown thanked the community "for entrusting me with the leadership of Youngstown."
Brown also praised and thanked Judge Baldwin for paving the way for other young women.
Brown explained his philosophy in dealing with problems such as morality, poverty and infant mortality.
"It is not my calling, but it is my responsibility to do something about them," he said.
He invited the community to join in the fight.
"We all have a stake in the city ... all sections of the city," he said.
Youngstown used to be known as a mob town and for Black Monday, Brown said.
"We can't just stand there and watch our city in ruin. It's going to be hard; but we have to do something," he said.
"We have to turn the page. Won't you help me rebuild Youngstown? We must all do it together," Brown said.
Under Brown the city will move and grow, said one of his supporters, Marsha Fant, during a reception at the church for the new mayor.
"I've known him since he was a little boy. Tito was the best candidate. We'll have a better city to live in with him as mayor. We all need to get behind him," Fant said.
Among the white people in the audience were Richard and Cynthia Switka, whom Brown asked to stand and be identified as his second family.
The Switkas said Brown and their son, Jason, who died May 21, 2005, met at Hayes Junior High School in the seventh grade and became like brothers.
"He [Tito] was like our son and Jason was in his wedding party," Cynthia said. Jason would have been very proud that Tito was elected mayor, she said.
"We were honored that Tito asked us to stand up. He is a great guy and very honest," she said.
More like this from vindy.com