Eat 'n Park worker retires after 30 years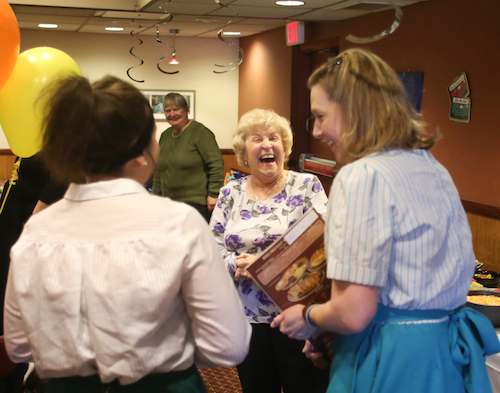 ---
By Sean Barron
BOARDMAN
When Carol Cascarelli hangs up her uniform today, it will mark the end of an era.
The longtime waitress at the popular Eat 'n Park restaurant is among four there who have waited on customers and performed many other duties for at least 30 years each, and Cascarelli, affectionately known as "C.C., will be the first to go.
"Being with my girls [co-workers] and the customers, because they are so wonderful," she said about what she will miss most regarding her career at the eatery, which started in 1987. The restaurant is at 8051 Market St.
The other three who have served more than 30 years in a variety of capacities at the Market Street restaurant are Michele Evans, Pam McQuillan and Birdie Lombard.
Cascarelli and several co-workers shared some of their recollections about her three decades of employment during a 90-minute retirement party in her honor late last week at the restaurant.
One of the top virtues is the family-like atmosphere between her and many fellow employees, said Cascarelli, who also worked many years as a caterer at the Maronite Center on Youngstown's West Side before beginning at Eat 'n Park.
Nothing magical took place, however, that connected Cascarelli with Eat 'n Park and led to her lengthy tenure. She recalled simply driving along Market Street while looking for a job and happening upon the Pittsburgh-based chain restaurant at the right time before being hired soon after.
"She was like my second mother," said Evans, who has served as a cook, a baker and a manager during her 35 years at the restaurant. She added that Cascarelli's regular customers – many of whom she knew by name – also will miss her.
Echoing those sentiments was McQuillan, who started at Eat 'n Park on Oct. 2, 1980, after having worked at a former steakhouse on Market Street.
"She always calls me her daughter," McQuillan said affectionately while praising Cascarelli for her strong work ethic and values. "She also taught me that morals and standards still count."
McQuillan, who has no plans to retire, added that Cascarelli could be stubborn at times and set in her ways. Nevertheless, both attributes aligned with her polished work ethic and fit into her sense of doing what she felt was right for the customers and the company, McQuillan continued.
Cascarelli also is like a mother figure to Lombard, who's been with the restaurant 31 years. Besides having worked together throughout that time and experiencing their share of "ups and downs," they maintain an enduring friendship, said Lombard, who plans to stay in touch with Cascarelli after her retirement.
"She's very kind-hearted," Lombard added. "She won't be forgotten."
For about four years, Cascarelli had hinted at the possibility of retirement, but decided instead to remain at the job she enjoyed, said Kim McCormack, the restaurant's general manager who planned the recent party.
McCormack, who's been with the Boardman location about 4 Ω years, remembered that Cascarelli also had a knack for lightening the mood for those who were experiencing difficult moments in the often fast-paced business.
"If she would see people who were stressed, she'd dance in the pantry," McCormack said with a chuckle.
The manager also praised Cascarelli for her reliability, as well as being willing to go out of her way to assist others, placing the customers first and desiring to think and reach beyond herself for the betterment of the company.
"Her work ethic is unmatched, that's for sure," said McCormack, who sported a light-green uniform with a striped top, the likes of which servers wore the year Cascarelli started. "She takes people under her wing. I definitely love the way she jumps in and leads."
For her part, Cascarelli's short- and long-term plans include relaxing as well as spending more time with her husband, Ralph, their four children and many grandchildren. Also part of her itinerary is traveling, though she has no specific destinations in mind, she said.
More like this from vindy.com