2017: Opioids, Ma'lik, growth drew attention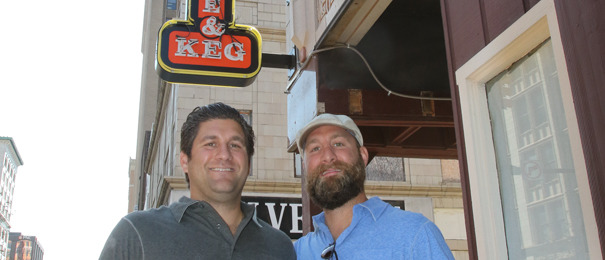 ---
By GRAIG GRAZIOSI
ggraziosi@vindy.com
YOUNGSTOWN
A story must, by its nature, have a beginning and an end.
These structures – day and night, sow and reap, life and death – are how humans make sense of the passage of time. But context is important; every story begins where another story ended, and nothing exists in a vacuum.
So it is with the stories that filled the pages of The Vindicator in 2017. To understand why certain stories made headlines this year, it's useful to examine them as a whole, to see the trends and influencers surrounding them that elevated them beyond the mundane.
These stories and more were identified by newspaper staff reporters and editors – as well as by website and social media scoring – as the top people and trend stories for 2017.
1. The opioid epidemic
Undoubtedly the most pressing and grim of the year's trends was the worsening opioid epidemic. Brought on by a cocktail of influences including the over-prescription of pain killers and a general sense of disenfranchisement, 2017 is expected to see more deaths due to unintentional overdose than 2016. Between January and November, there have been 88 deaths in Mahoning County as a result of opioid overdoses.
By November, Trumbull county had already logged more than 105 overdose deaths. The county had 107 in the entirety of 2016.
The Vindicator along with 21 WFMJ-TV, Warren's Tribune-Chronicle and WKSU/National Public Radio launched "Your Voice Mahoning Valley" coordinated by the Jefferson Center as a means to engage the public to seek remedies to the opioid problem.
The rise of the opioid epidemic also saw the rise of private rehabilitation centers. At the height of its popularity as a nightlife and music venue, The California Palms Hotel closed in February and reopened as a drug-addiction treatment facility. In Austintown, another large rehabilitation facility, Braking Point LLC, was shuttered after the FBI launched an investigation into the organization and its owner, downtown developer Ryan Sheridan.
2. Ma'lik Richmond controversy
While physical rehabilitation became a priority for those engaged in the opioid crisis, a debate centered around the rehabilitation of character and the proper dispensation of justice came to a boil on Youngstown State University's campus.
Ma'lik Richmond, one of the two Steubenville high school football players found guilty of raping a 16-year-old girl in 2013, became the center of a heated public debate over whether he should be allowed to play football at YSU. Community-led protests and petitions opposed the inclusion of Richmond on the Penguins' roster, arguing a convicted rapist shouldn't be allowed to play. Richmond sued the school after being told he would not play for the season.
The university eventually settled with Richmond, who then took the field Sept. 16. The outrage surrounding Richmond came months before a story alleging Hollywood producer Harvey Weinstein had repeatedly used his power to coerce sex from actresses and models helped elevate the #MeToo movement on social media, where women shared their own stories of sexual harassment and coercion.
3. YSU improvements
Despite the controversy, things were far from all bad for YSU in 2017. Though overall enrollment fell by a single percent since last year, the school enrolled 6 percent more freshmen this year than in 2016. Wick Avenue reopened after more than a year of widening and repaving work, and two major additions to campus – the University Edge student apartments and the Barnes & Noble Bookstore – opened this year. The faculty union was also successful in negotiating a new contract with the administration after more than a decade of contentious bargaining disputes.
4. Political upsets
YSU wasn't the only local institution to experience some upheaval during the year. Youngstown's political scene was shaken up, largely by black voters making their voices heard.
White, established candidates were defeated on more than one occasion by black candidates without their party's endorsement.
Arguably the most high-profile example is of Youngstown's Mayor-elect Jamael Tito Brown ousting incumbent Mayor John A. McNally during the primary election last spring. Brown went on to win the election in November. Carla Baldwin made history when she defeated Mark Hanni to become the first African-American woman to be elected a judge in Mahoning County. She will serve as a Youngstown Municipal Court judge.

5. Ryan's challenge
At the national level, politics were dynamic as ever, as the shock wave from the 2016 election continued to be felt well into the year. Rep. Tim Ryan of Howland, D-13th, challenged House Minority Leader Nancy Pelosi, D-Calif., for her position as the leader of the House Democrats. Ryan's challenge reflected a broader dissatisfaction with establishment Democratic leadership both within elements of the party and among a portion of the public. Though Ryan would lose the challenge in a 134-63
vote, the move served to solidify his image as a representative of the working-class Democrat to contrast Pelosi's association among large-donor-class Democrats.
6. Bars and breweries abound
Those seeking shelter from the storm of political intrigue this year could find it in a number of new bars and breweries that popped up across the Valley. Noble Creature Cask House opened in downtown Youngstown earlier this month, while the pour-your-own drink bar Whistle & Keg opened on Federal Street earlier this year. The Casual Pint in Boardman began offering their broad selection of beers, and Modern Methods Brewing in Warren is set to open early next year.
7. Crime and homicide
Both homicides and gun confiscations saw increases. There have been 26 recorded homicides in Youngstown this year as of today, up from the 19 recorded in 2016. More than 400 guns have been acquired by police through various means this year, and 130 federal weapons charges have been filed, which is an increase from the 390 guns acquired in 2016.
In addition, there have been a number of gruesome crimes this year, including a fatal stabbing that ended up with the victim, Anvia Mickens, 27, being driven to Niagara Falls in the trunk of a car, and a woman, Shannon Elizabeth Graves, being dismembered and left in a refrigerator. A local surgeon. Dr. Joseph Yurich, was convicted of vehicular homicide for a boating death. Prostitution became a focal point for the Austintown Police Department in 2016 and 2017, with APD making 19 arrests between January and September, largely thanks to stings planned using websites.
8. Notable deaths
This year, residents said goodbye to the iconic state Sen. Harry Meshel, who died at age 93 in September. The heroic chronicler of civil rights, Simeon Booker, died at age 99; beloved local news anchor Bob Black died at age 68; businessman and philanthropist Roger Jones died at age 89; well-known radio host Dick Thompson died at age 89; and Roger Ailes, Fox News chairman and CEO – a Warren native – died at age 77.
9. Shelter from the storm
This year, Hurricanes Harvey, Irma and Maria tore through the southeast, with Harvey doing major damage to Houston, and Irma and Maria tearing through the Caribbean and Florida, leaving Puerto Rico in a state of disarray lingering for months after their landfall.
As with many other parts of the country, the Valley became a refuge for some of those fleeing the areas of devastation. Floridians and Texans with family in the region took up shelter with relatives until it was safe to return to their homes, while many new Puerto Rican families have moved to Campbell and Youngstown to start life anew rather than attempting to wait for the rebuilding of the island.
10. Communication breakdown
The Youngstown police department purchased new 800 MHz radio systems, which will allow officers to encrypt their communications while out on patrol. While the encryption will help ensure criminals can't listen in on police communications and use them for nefarious means, it also means the public and news media will no longer have access to police channels via scanners and their own personal radios. YPD joined the Austintown Boardman-Mahoning County Joint Communication District, where they'll be able to better coordinate with other local police departments.
More like this from vindy.com