Therapy dog makes PAWSSitive impact on students in Liberty School District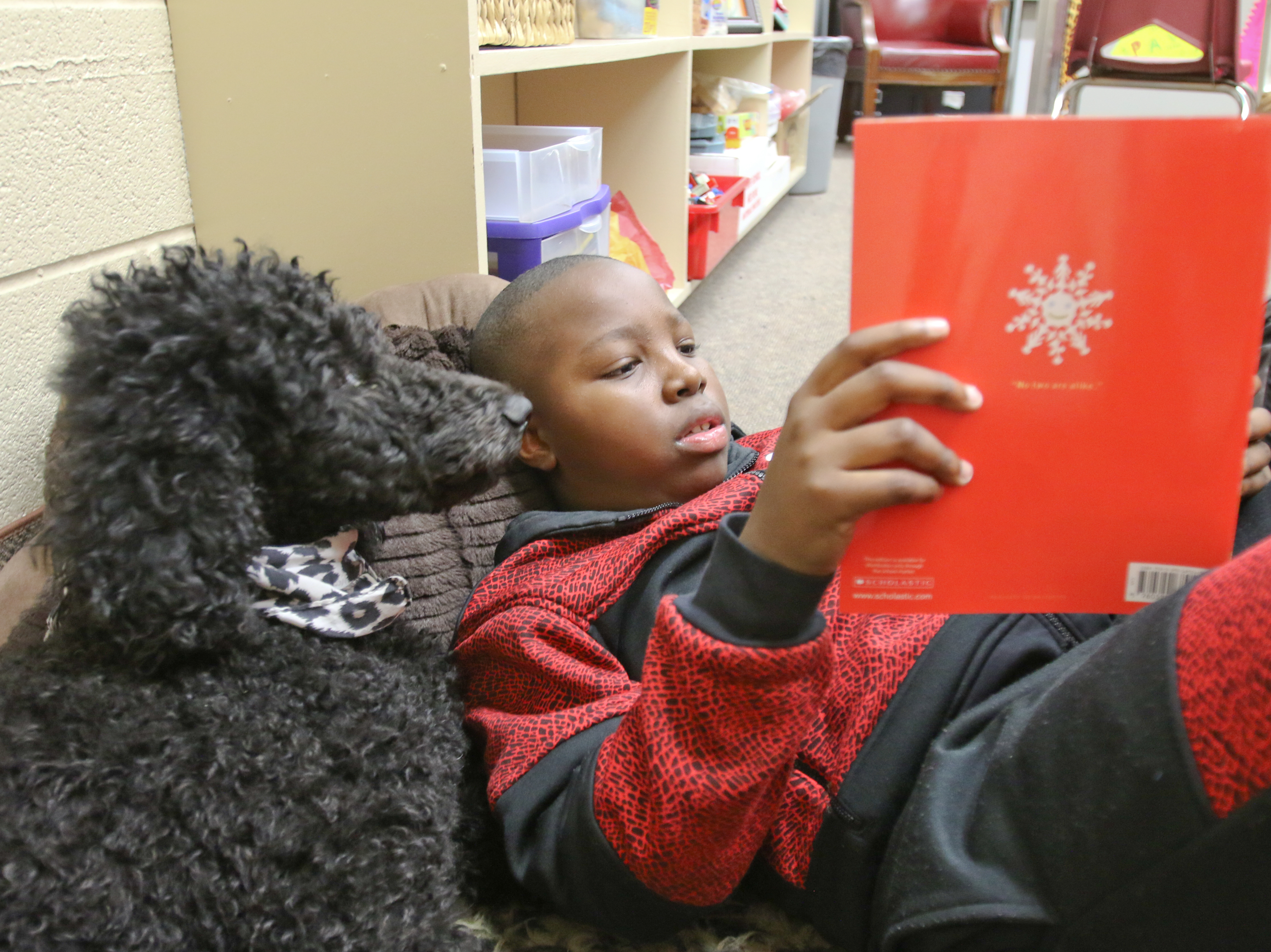 ---
LIBERTY
Sixth-grader Vernon Gurley stops at the Liberty Middle School guidance counselor's office every day to pet, feed and read a book to a furry friend.
PAWSS is the school's accredited therapy dog and has been serving her role for about a year.
"She makes everyone feel joyful and happy," Vernon said. "When I'm tired and unhappy or don't feel like being silly, I come see her."
PAWSS, a 1-year-old standard poodle, provides emotional and academic support for students. PAWSS means Problem Solver, Always Respectful, Willing Learner, Show Responsibility, Safety.
The dog spends part of the day in a cozy corner of the guidance counselor office, surrounded by pillows and a blanket where students stop in for a quick hello or spend a few minutes when they're stressed.
"Just her mere presence brings happiness," said Kristie Sallee, the middle-school guidance counselor and the dog's owner. "We see a million smiles when she walks down the hall. She makes the kids happy and she also helps them learn."
Sallee takes PAWSS to classrooms where students can practice reading with the dog. She said it helps students feel comfortable because PAWSS won't judge or critique them.
Sabrina Sharpe, a fifth- and sixth-grade special education teacher, said every student in her classes had improved reading scores after they practiced reading with the dog for two months.
"Sometimes learning can be a struggle in the classroom, but PAWSS calms the children down," said Sharpe. "It's very motivating for students."
Darnelle Clark, a first-grade teacher, also noticed a positive change in her students since PAWSS began stopping by her classroom once a month. She said her students are at different reading levels, but they all enjoy reading with the dog.
"I have seen a difference because PAWSS gives them a sense of security," she said. "They can't wait to see her."
The dog also appears in classes for scheduled playtime, and is available for students to come to when they need comfort.
Clark said her students exhibit better behavior because they know they will be rewarded with a visit from the dog if they follow rules.
Sharpe said her students are more positive and confident about their reading skills.
Sallee said she got the idea of a school therapy dog at a counseling conference.
"Something inside me ignited. I knew I had to try to do it," she said.
After researching and getting permission from administrators, she picked a standard poodle because it is a hypoallergenic and intelligent breed.
PAWSS went through puppy training and therapy dog classes and started working at the school in early 2016.
At school, PAWSS is focused; but at home, the dog is playful and silly.
"It's like she knows she's at work," Sallee said.
Mike Butch, assistant principal, said the dog has been nothing but positive for the school.
"When students are having a meltdown, they visit PAWSS and it calms them down," he said. "All schools should try this; you'll have less discipline problems."
Sallee said she loves watching kids light up when they see the dog. She said other schools have shown interest in getting a therapy dog.
Vernon said he used to have bad attendance but he comes to school everyday to see the pup. "I love PAWSS; she helped me," he said.
More like this from vindy.com
December 27, 2017 12:10 a.m.