Judge-elect Baldwin reflects on historic win, looks to future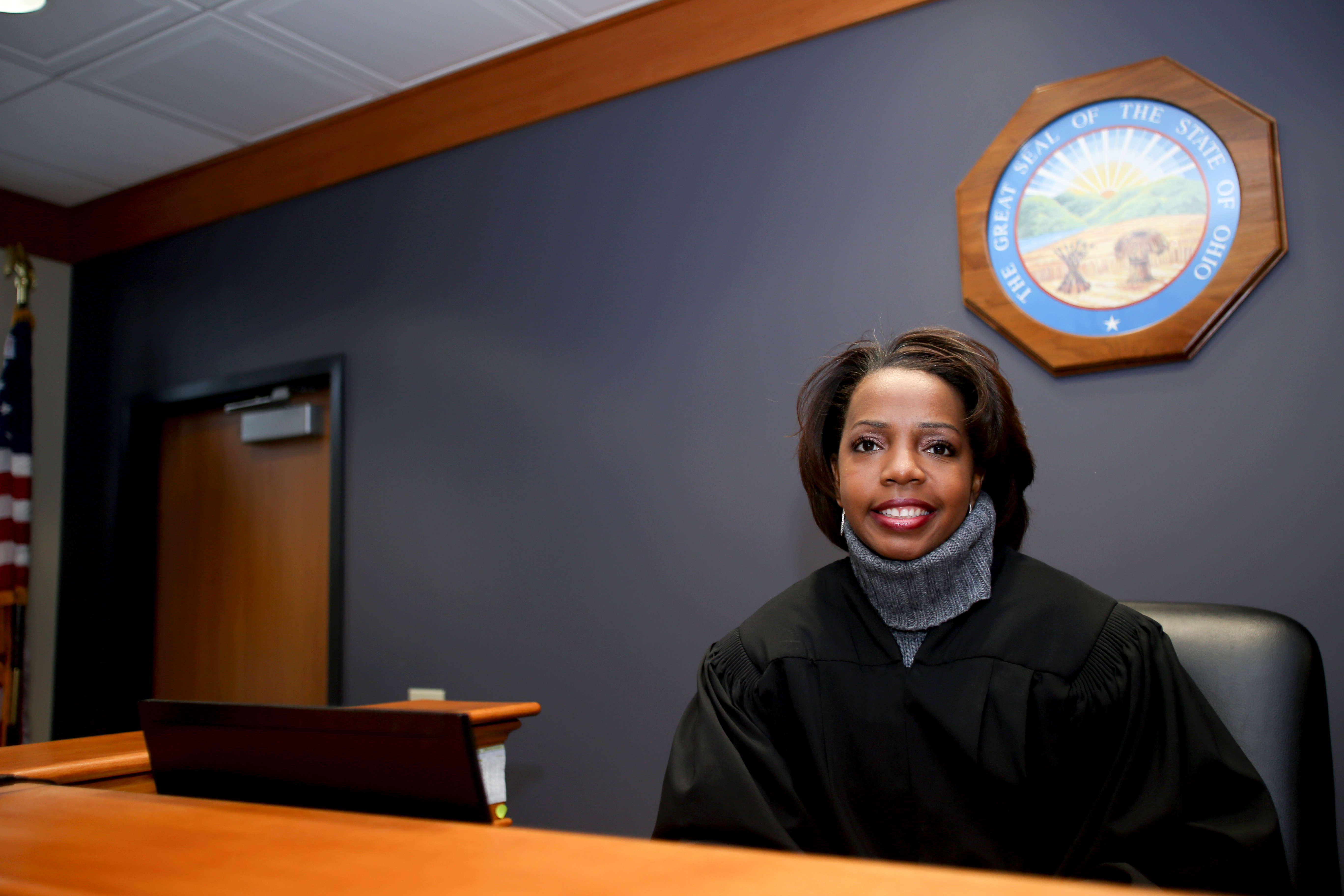 ---
By Justin Wier
YOUNGSTOWN
Carla Baldwin may be the first black woman elected judge in Mahoning County, but she hopes stories like hers will soon become the norm.
For Baldwin, it's been 25 years in the making.
She first expressed her desire to become a judge when she was 12 years old in a Martin Luther King Jr. Day essay contest with the theme "I, Too, Have a Dream."
"Twenty-five years have passed since I penned that speech in the sixth grade, and no one broke that barrier," Baldwin said. "To be the first is amazingly overwhelming, but now this should no longer be the exception for Mahoning County."
Her dream will become a reality when Baldwin takes her oath of office at 10 a.m. today at Fellows Riverside Gardens and becomes a Youngstown Municipal Court judge.
She will replace Judge Robert Milich, who retires at the end of the year.
When Baldwin started her campaign, she declared she wasn't the black candidate or the female candidate. She was the qualified candidate who just happened to be a black woman.
Her election win means the community is ready for a more diverse bench, and race and gender no longer serve as hindrances for qualified candidates, she said.
But her experience as a black woman has the potential to bring something new to the city court.
A diverse judiciary benefits the community because judges who understand different cultures and realities have a better ability to understand the experiences of those who come before them, Baldwin said.
"You just understand different things when you're exposed to them," she said. "My experience in life, the diversity of just being me, being Carla for the last 37 years, what I've seen and what I've been exposed to and am aware of ... I get to bring that to the bench."
For the last six years, that experience has included working at the Martin P. Joyce Juvenile Justice Center – the first five years as a prosecutor and the last year as a magistrate.
Baldwin called it the best experience of her criminal career because she learned you can do things differently from the traditional criminal model of locking people up for the maximum sentence and moving on to the next offender.
That, Baldwin said, does not reduce the likelihood of someone returning to court on a new offense.
The county's juvenile court has several specialized dockets including mental health court, which Baldwin presided over, and drug court.
If you provide offenders with access to resources like mental health or addiction treatment, Baldwin said, you can get amazing outcomes.
Most people who come in contact with courts do so at the municipal level, so Baldwin said she sees the opportunity to have a huge impact on the community.
She plans to implement specialized dockets at the municipal court level. Providing support to those who are ready to change could have the court playing a role some may not expect.
"We're not just going to tell you to make a change," she said. "We're going to provide you with the tools, and we're also going to be the cheerleader. ... The court as the cheerleader. Imagine that."
As a municipal court judge, Baldwin will almost certainly have to contend with the effects of the opioid epidemic.
Addiction is a disease, Baldwin said, and it's important to give people who are ready to change the resources to do so.
"We have to deal with the negative behaviors that manifest because of that disease," she said. "But if we treat the issues that led to the addiction in the first place, then those criminal manifestations will cease to exist, and now we can have a healthier person who is engaged and involved in the community."
If people aren't ready to change, Baldwin said there's a place for them, too, but locking up people and throwing away the key puts a temporary Band-Aid on the gaping societal wound that is the opioid epidemic.
The goal of Baldwin's approach is to prevent people from coming back to municipal court or to stop them before they commit a felony offense, she said.
"When those who are perceived as the least of us or the worst of us are thriving, we all win," she said.
That desire for understanding comes from a question that has fascinated Baldwin since before she wrote that essay in sixth grade.
As early as first grade, she would bond with her father, Charles – then Youngstown's chief probation officer – by watching legal TV shows such as "Matlock" and "Perry Mason."
"I was always fascinated with the criminal aspect of society and figuring out the why," Baldwin said. "OK, you're a defendant. You're on trial, but why did you do it?"
Working with the juvenile court over the last six years and seeing the success stories on the specialized dockets, she said she's seen what happens when people ask why.
"It makes me say, 'OK. I think I got it right.'"
More like this from vindy.com