McGuffey staff, students donate to families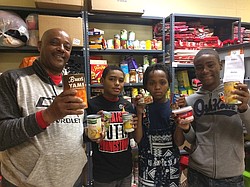 CONTRIBUTED PHOTO

Photo
William Holmes McGuffey Elementary School collected canned goods to assemble baskets to distribute to needy families in the school. This is a project of the school's PTO and Key Club. The teachers donate the turkeys and gift cards also are given to the families to buy potatoes and fresh produce. Staff members hope that the students learn a valuable lesson about helping others. Above from left, Terry Wilkie, WHM Elementary School PTO president, and sixth-grade students Clifton Scott, Isaiah Walker and Tiawan Clinkscale display some of the items to be donated.
More like this from vindy.com
December 26, 2017 1:58 p.m.