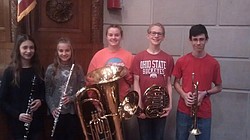 CONTRIBUTED PHOTOS

Photo
Ten students from Austintown Middle and Fitch High School were chosen to participate in the Ohio Music Education Association District 5 Honors Band. Students performed at Stambaugh Auditorium on Nov. 18. The middle-school honors band, above, are Kailyn Tibolla, clarinet; Kristin Yeager, flute; Paige McBride, tuba; Noah Snyder, horn; and Armand Giovannone, trumpet. The high-school honors band, below, are Alexcia Soto, clarinet; Matt Smutney, alto saxophone; Nick Mattusi, trumpet; Angelica Bahurjak, flute; and Alex Butrick, trumpet.
More like this from vindy.com
December 26, 2017 2:06 p.m.