Kids offer gift of song to nursing home residents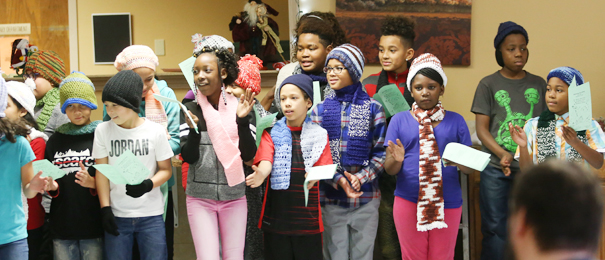 ---
By AMANDA TONOLI
atonoli@vindy.com
YOUNGSTOWN
William Holmes McGuffey Elementary students spread holiday cheer to nursing home and assisted-living facility residents in the form of songs Friday afternoon.
Two groups of students visited The Inn at Christine Valley, 3150 S. Schenley Road, and Camelot Arms Care Center, 2958 Canfield Road. They were led by Gary Harper, McGuffey's music teacher, as they sang to residents.
Before their performance, students handed out programs adorned with art illustrated by third-grader Andrea Henriquez and fifth-grader Salena Brewer.
Melodies of "Jingle Bells," "Let It Snow," "Silent Night," "Christmas, Don't Be Late" and "We Wish You a Merry Christmas" were sung by third- and fifth-graders, bringing both tears and smiles to the faces of many residents.
After students finished singing, they walked around and shook each resident's hand, personalizing the performance.
Kim Williams, Camelot Arms Care Center dietary manager, said the songs and the overall performance were well-received.
"It was just a lovely, very nice event," she said. "Residents love to see kids coming to see them.
Nicole Martin, activities director at The Inn at Christine Valley, said residents look forward to the children entertaining them.
"Music is so important to us," she said.
Jasmine Thompson, William Holmes McGuffey third-grade teacher, said visiting the facilities is an event she looks forward to every year.
"We have wonderful students at McGuffey Elementary, and we are just so proud of them," she said. "We are also proud for the opportunity to spread a little Christmas cheer."
More like this from vindy.com