Fired assistant prosecutor argues unsealing grand jury transcripts would reveal misconduct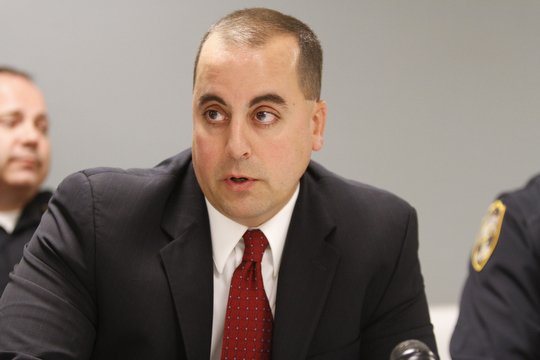 ---
RELATED: Paul Gains will not seek court of appeals seat
By Justin Wier
YOUNGSTOWN
A former assistant Mahoning County prosecutor claims grand jury transcripts will reveal misconduct by his former employer.
Martin Desmond, fired by Prosecutor Paul J. Gains in April, filed a petition Thursday in common pleas court asking to have five grand jury transcripts unsealed.
Desmond alleges a pattern of misconduct by the prosecutor's office he claims Gains failed to adequately investigate.
He claims the prosecutor's office persuaded grand juries to indict people without sufficient evidence – in some cases to compel testimony.
Gains said Desmond's claims have no merit. Gains stressed that Desmond has identified only six cases in Gains' more than 21 years as prosecutor.
"If they did have merit, he should have reported them at the time he believed they occurred," Gains said.
The cases detailed in Desmond's petition occurred between 2008 and 2013.
Gains said his office will respond appropriately and defend itself against Desmond's allegations.
In April, Gains had a news conference to announce his decision to fire Desmond.
Desmond violated office policy by discussing a matter he was no longer handling with people outside the office, including a lawyer, who sued the county in federal court, Gains said at the time.
A federal judge dismissed that lawsuit, according to court records.
It concerned Kalilo Robinson, a witness in a murder case whom prosecutors indicted on charges of tampering with evidence and obstruction of justice.
Desmond claims the charges resulted from Robinson's decision to invoke the Fifth Amendment privilege against self incrimination.
Prosecutors later dismissed the charges against Robinson.
Desmond claims he sought to expose misconduct by the prosecutor's office and Gains fired him in retaliation.
The State Personnel Board of Review previously dismissed a complaint filed by Desmond alleging wrongful termination.
In a July report, an administrative law judge said Desmond did not merit "whistleblower" protection, and a report Desmond sent to Gains in January alleging misconduct was "not made in good faith."
"While [Desmond] had months to prepare a report it was not until ... after Prosecutor Gains ordered [Desmond] to submit a written report, that [Desmond] finally did so," the personnel board report says.
In another report, the personnel board said it was convinced Desmond would never have reported any violations but for Gains' persistence.
In his petition, Desmond argues the grand jury transcripts would allow him to appeal that ruling.
Three of the transcripts Desmond would like to have unsealed concern the 2008 shooting death of Christian Blackshear, 19, at a Campbell housing project.
A county grand jury indicted Christopher Hill, Dominique Lucky and Tyrell Ravnell on murder charges.
Prosecutors later dismissed the indictments against Hill and Lucky, "admitting that the charges against them 'may have been brought ... to apply pressure on' them for their cooperation," Desmond's petition reads.
Desmond questions the need to indict the three men separately as principal offenders.
Another case concerns the shooting death of Randy Cappelli on New Year's Day 2011.
A grand jury indicted Emmanuel Dawson in January 2012 on a charge of tampering with evidence after he admitted returning to the scene to set fire to Cappelli's vehicle with Dario Correa, whom a jury ultimately convicted of murder.
Desmond's petition claims an assistant prosecutor pursued a superseding indictment charging Dawson with murder after he invoked his Fifth Amendment right against self incrimination.
The 6th U.S. Circuit Court of Appeals has held that pursuing a superseding indictment without new evidence constitutes "prosecutorial vindictiveness," Desmond's petition states.
Prosecutors dismissed the charges against Dawson on a Tuesday, and Dawson testified at Correa's trial that Thursday, according to court and Vindicator records.
The final case Desmond details concerns James Woods, whom a grand jury indicted on a charge of engaging in a pattern of corrupt activity.
Desmond claims the prosecutor did not have evidence for critical elements of the offense and "appears to have misled" the grand jury as to the law.
The indictment accused Woods of involvement in one of five aggravated robberies, which Desmond wrote did not constitute a "pattern" of corrupt activity.
The court later dismissed the charge.
In asking for the release of the transcripts, Desmond argues there is no need for them to remain secret because the criminal proceedings have long since concluded.
"Justice and the strong public interest in prosecutorial integrity ... require disclosure," the petition reads.
More like this from vindy.com