4 chicks hatched in Fitch classroom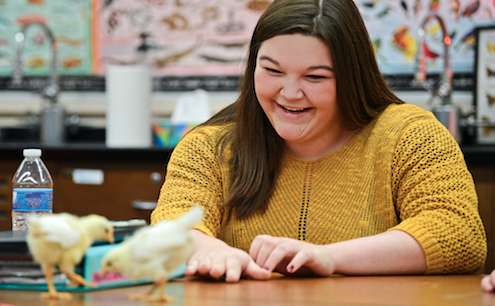 ---
By Billy Ludt
AUSTINTOWN
A high-school zoology class didn't wing it this semester after its successfully hatched plan helped hatch some chickens.
On Dec. 6, four chicks hatched from eggs after incubating for 21 days in Stacey Pavlik's classroom at Austintown Fitch High School.
Incubating and raising the chicks is a project in Pavlik's zoology class, which is composed of junior and senior students.
The four chicks are named Freddy, Huevo, Carlos and Lil Peep. Their birth was live-streamed to an audience of about 60 people through Pavlik's YouTube account.
"Huevo's the nicest," senior Kaylee Novicky said. "He likes to be held."
Novicky said she visits the chicken barn every year at the Canfield Fair to handle chicks, and plans to take a couple home next semester.
Their temporary residence in the fowl-filled classroom is a storage bin filled with wood shavings and fixed with a heat lamp. They're occasionally allowed to run freely around the classroom, but students follow them closely, cleaning any mess they leave behind.
Zoology students are tracking their growth, cleaning out their bin and ensuring they're fed and watered.
Pavlik said determining a chicken's gender is no easy task at this age, but she and the class believe Lil Peep is the sole female of the bunch.
"It's surprising how many people don't realize chickens come from a chicken egg you buy in the store," Pavlik said.
The eggs incubated in the class were provided from education supplier Ward Science.
Twenty-four eggs were incubated in the zoology class, and the four hatched. That's not as high as anticipated, Pavlik said, and she double-checked her methods, but she chalks it up to first-attempt problems. And at this point, she said she doesn't know how the class would manage taking care of 24 chicks.
The takeaway from this project is observing growth and evolution firsthand. Pavlik said students need "to understand the whole process for evolution to occur, and how animals evolved over time."
The chicks will stay under the heat lamp for the next four weeks and will be donated for eggs next semester.
Pavlik plans to do the project again next semester, possibly collaborating with an elementary school class. Next time she hopes more eggs will hatch after what she and her class learned this semester.
In previous semesters, Pavlik's class focused on another bird-related project. Students maintained bird nest boxes and tracked local bird species around Fitch in "Falcons to Bluebirds."
The class was not able to do the project this semester due to West Nile Virus-positive mosquitoes found in wetlands on campus. Falcons to Bluebirds likely will resume in the spring.
"I love animals. I always have," Pavlik said. "I always wanted to do something with animals or science. And now I get to do both."
More like this from vindy.com