$50M for Y'town's water system "good starting point,' Aqua Ohio says
YOUNGSTOWN
Aqua Ohio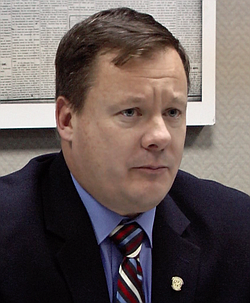 Video
Representatives from Aqua Ohio joined The Vindicator editorial board to discuss delivering a letter of interest to purchase the Youngstown's water distribution system.
Aqua Ohio's offer to buy Youngstown's water system for $50 million is "a good starting point" for the company's discussions with the city, its president says.
Ed Kolodziej, Aqua Ohio president, told The Vindicator on Wednesday if Mayor-elect Jamael Tito Brown is interested in selling the city's water system, "we'd work with the city administration to justify what we could pay and come up with an offer; $50 million is the starting offer."
When asked about how high Aqua Ohio would go, Kolodziej said it was hard to say because "this is the very, very beginning." The two sides haven't even met to talk about a potential sale, he pointed out.
Brown says he'll look at the proposal but isn't that interested in it because water is one of the city's main resources.
Kolodziej spoke to The Vindicator by phone while other company officials met with newspaper editors for 75 minutes to further discuss Aqua's letter of interest, given Friday to city officials, seeking to purchase the water system.
Aqua Ohio is one of the largest regulated water utilities in the state – currently serving 50,000 residents within the Mahoning Valley and 500,000 residents throughout the state. The company employs more than 50 people locally.
Among the areas that use Aqua water are Struthers, Lowellville, Poland Village and New Middletown and portions of Beaver, Boardman, Coitsville, Canfield, Poland and Springfield townships in Mahoning County; Brookfield and Hubbard townships in Trumbull County; and Lake Tomahawk in Columbiana County.
In addition to providing a potential source of funds to the city, Aqua Ohio's offer to Youngstown addressed the continuous need for infrastructure investment and environmental compliance.
Aqua Ohio said it has invested $30 million to $40 million each year on water and wastewater infrastructure to improve service and reliability for its customers. Next year, the company will make more than $13 million in infrastructure improvements in the Mahoning Valley.
Anthony Mancari, Aqua's director of business development, said he would invite the city to seek requests for proposals from companies to sell its water system.
"It's a great way to gauge the public sentiment and see what they can get for their system," he said.
"Should they do that, we'd have a competitive advantage," added Jeff La Rue, the company's spokesman.
Kolodziej said he would give Brown time to get settled in as mayor before asking to meet with him to further discuss the potential sale of the city's water system.
Aqua Ohio officials said the sale of Youngstown's water system would help the city's financial situation. The city is facing a $2.5 million to $3 million deficit in its general fund and the potential for layoffs to balance its budget.
The city's water fund has a surplus of about $16 million. The fund brings in about $32 million annually.
But Kolodziej said most of that money goes to the Mahoning Valley Sanitary District to purchase bulk water and for labor costs, leaving about $4 million to $5 million annually for waterline replacements.
More like this from vindy.com