Austintown students share messages about drug/alcohol dangers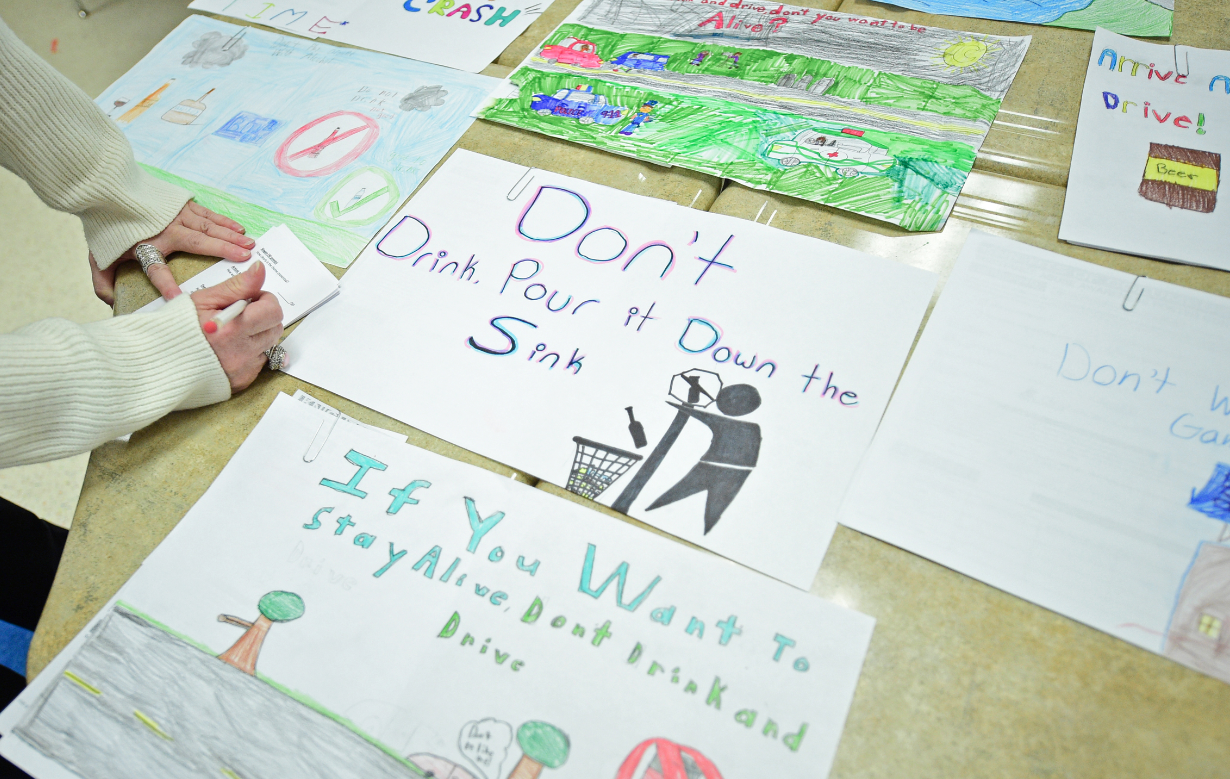 ---
AUSTINTOWN
"Do math, not meth," one poster read.
"Don't make drugs a part of your story," said another featuring the logo for the app Snapchat, which allows users to post "stories" for friends to view.
"Drugs will eat you inside and out," said another sign, featuring a drawing of a woman's face divided in two – one half happy, the other sad.
These were just a few of the messages Austintown students made for a substance-abuse-awareness poster contest sponsored by a local Knights of Columbus council.
The organization has sponsored the international contest for many years, but this year marked the return of the program to Mahoning County thanks to a partnership with Coalition for a Drug-Free Mahoning County.
Austintown is the first school district to participate in the contest, with more than 400 students between age 8 and 14 submitting entries. Half focused on alcohol, the others on drugs.
On Wednesday, judges such as local journalists, police officers and prevention experts stopped by Austintown Intermediate School to judge nearly 50 posters. Winners will move on to the council level, then perhaps to district, state and international.
Program organizers said it's crucial for students to learn at an early age about substance abuse and skills to avoid it.
"We saw it as a great opportunity for the kids to show what they know about drug prevention, avoiding peer pressure and avoiding drug use," Angela Divito, executive director of Coalition for a Drug-Free Mahoning County, said.
If students learn in elementary school about substance abuse, they'll be prepared to withstand peer pressure and experimentation in middle school and high school, she said.
"We know kids take these messages to heart," Divito said.
The contest ties in with other prevention efforts in the school district, such as Drug Abuse Resistance Education (commonly known as D.A.R.E.) and the National Institute on Drug Abuse's Brain Power curriculum.
"What we were trying to focus on was healthy alternatives. If you feel sad or depressed, instead of turning to drugs or alcohol, what are some other things you could do?" said AIS teacher Alicia Burnfield, of the drug/alcohol awareness lessons she coordinates for the school.
Another contest judge, Catherine Johnson, a prevention specialist at Neil Kennedy Recovery Center, said what stood out to her about students' posters was "how readily they get the message about the dangers of alcohol and drugs, and their creativity."
"They definitely get it," she said.
More like this from vindy.com