Local brews add cheer to holiday season Warren's Modern Methods Brewing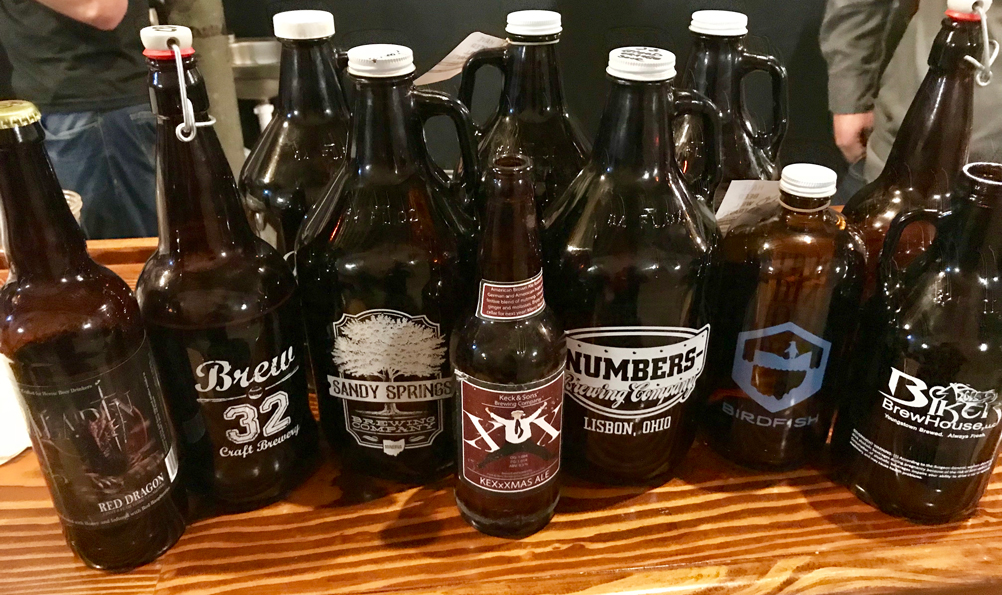 ---
By Jim Cyphert,
Mahoning Valley Flight Crew
As Mahoning Valley craft beer lovers look to please their palates around the holidays, there's no shortage of fine seasonals available at breweries within a half-hour drive.
The Flight Crew traveled to Warren's Modern Methods Brewing (set to open early in 2018) for the December State Line Brewers Guild meeting. We asked local brewers to bring beers available at their breweries this time of year.
The meeting became a holiday extravaganza as we all sampled blood orange sours, Imperial stouts, IPAs, Christmas ales and more.
Here's what we thought:
Brew32, Pulaski, Pa.
Dave Shively
"To rim or not to rim? That is the question. There's debate as to whether craft beer should be served with the pint glass rim garnished with sugar and spice this time of year. At Brew32, holiday ales are served in rimmed-glass style.
"I sampled two Brew 32 seasonals, #73 St. Nicklaus and #24 Cinna-Bonds. #73 St. Nicklaus is a tribute to Jack Nicklaus and his 73 PGA wins. This smooth peppermint-mocha Stout has a minty finish from the 600 candy canes added to the boil."
The #24 Cinna-Bonds is like tasting a liquefied version of the classic cinnamon Danish. Controversial for sure … but that might be intentional as it's named after former Pittsburgh Pirate #24 Barry Bonds. This Brown Ale has hints of vanilla and obtains sweetness from the use of Belgian candy sugar. It's served with a cinnamon-sugar icing rim."
Noble Creature Cask House, Youngstown
Petrushka (8.5% ABV)
Jim Cyphert
"This time of year, I'm a sucker for deep, dark beers. Petrushka didn't disappoint. It's a rich and velvety, well-balanced Russian Imperial Stout with hints of coffee and chocolate. Petrushka is named for the famous thoroughbred racehorse, and gives you everything it's got … from starting gate to finish. Noble Creature opens in a few days. Be sure to stop in and see owners Ira and Marcy Gerhart."
Sandy Springs Brewing, Minerva
Sandy Claus Christmas Ale (7.1% ABV)
"I was looking forward to sampling Sandy Springs' offering; I hadn't been to this new brewery or tasted its beers. After a bloodhound test, I knew this Christmas Ale would be robust with holiday spice. Sure enough, it had hints of cinnamon, nutmeg and clove. Minerva isn't far away, and part of it is actually in Columbiana County. We'll be heading down soon!"
Birdfish Brewing, Columbiana
The Grynch (8.5% ABV) Christmas in Paradise (7% IBU)
Jason Jugenheimer
"Norman Rockwell invented small-town Christmas. If you're looking for that experience within a short drive, look no further than Columbiana. Historic homes and quaint small businesses line the main street and roundabout with homes and marquees lit up with the glow of electric Christmas. They also have pretty good beer at Birdfish. Whether you're feeling naughty or nice, Birdfish has you covered.
"The Grynch is a spicy Christmas Ale for those who want to feel naughty this year. The nutmeg and clove are flavor forward in this caramel-colored ale. It finishes with the sweetness of honey and warmth of cinnamon. It will leave you warm and satisfied.
"If you aren't feeling naughty, Christmas in Paradise is a Belgian-style Ale that adds the fruity sweetness of cranberry with a touch of ginger to create a nice holiday twist on a popular beer style. Its caramel color and light-hearted flavor is a great addition to your Christmas beer lineup.
"These palate-pleasing masterpieces would leave even Rockwell inspired."
Modern Methods Brewing, Warren
Dub City IPA (7% ABV, 58 IBU)
Brian Long
"Dub City is made with just the right amount of Cascade, Crystal and Citra hops. This India Pale Ale has a nice haze followed up with finely balanced body and aroma. I'm looking forward to the many more beers Modern Methods has in store at the beginning of 2018. I think I'll have another!"
Numbers Brewing, Lisbon
22 Blood Orange Sour (4.2% ABV, 18 IBU)
"Numbers' 22 Blood Orange Sour comes in at a friendly ABV and a light IBU. This orange-yellow beer was mild on the tart and tangy, which was nice as you could really pull the blood orange flavor. This one's very nice for newcomers to sours and craft beer, in general."
Biker BrewHouse, Austintown
Cruisin Christmas Ale (8% ABV, 33 IBU)
Joe Sanfilippo
"If you haven't had a chance to try Cruisin' Christmas Ale don't worry. Due to its popularity, owner Larry Wilson decided to brew another batch … just in time for the holidays. This holiday cheer is full of flavor, made up of caramel malts, cinnamon, ginger and honey. If you don't hurry in to try this, you may have to wait till next year!"
Paladin Brewing, Austintown
Dark Amber (10.9% ABV, 30 IBU)
"If you're looking for something to warm you up for the holidays, give Dark Amber a try. This Barleywine Ale provides a malty taste, with a ton of flavor. I recommend you stop in for a pint … or grab a growler or a crowler to take home with you."
Modern Methods Brewing, Warren
KEXxXMAS Ale (9.5% ABV, 45 IBU)
"So many brewers, so many choices. I couldn't try them all. But I did find a special treat. Keck & Sons Brewing Co.'s KEXxXMAS Ale was homebrewed by Modern Methods' owner Adam Keck and his father in North Jackson in 2013. This American Brown Ale features German and American hops with a festive blend of nutmeg, cinnamon, ginger and molasses. It was amazingly smooth and well balanced, and the highlight of a great evening. Merry Christmas!"
Our take: Visit your local craft brewery to enjoy a seasonal before getting back to business as usual in the New Year. Cheers!
More like this from vindy.com