Canfield chemistry class state winner in national contest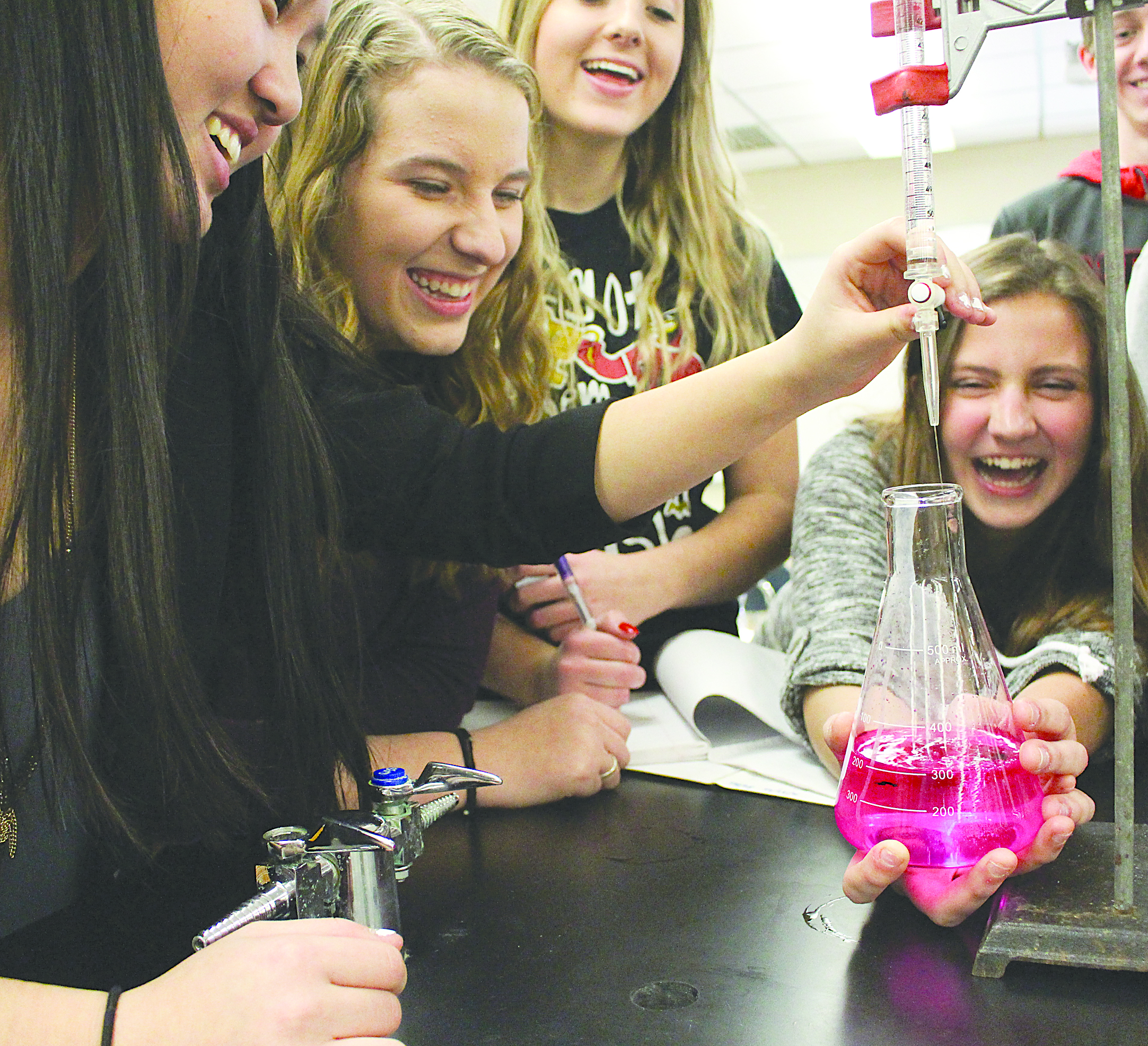 ---
By bILLY LUDT
CANFIELD
Tom Slaven's advanced placement chemistry class burst into cheers when they heard their submission to the Samsung Solve for Tomorrow Contest was a state winner.
Canfield High School is one of 51 districts in the nation to make it this far in Solve for Tomorrow. For winning the state, the class receives $25,000 in Samsung technology and equipment to produce an informational video.
The contest tasks students with solving a problem in their community through the classroom using science, technology, engineering, arts and math (STEAM).
"We're excited that there's a problem in the community that we can solve," Junior Lindsay Wills said.
Slaven's class proposed the idea of a device that could curb E. coli's presence in local bodies of water.
After reviewing every national finalists' project proposal, Slavens said theirs is the sole proposal whose primary focus is on chemistry. The majority lean into technology.
The next step for these Cardinals is selecting or electing a project manager and splitting their class into three groups, each given a separate task contributing to a prototype of their proposed solution.
Once next semester begins at CHS, Slaven's AP chemistry class that has not been involved with the contest will team up and split into three groups as well.
Two groups will test precipitation reactions with phosphate and nitrate. Bacteria like E. coli gathers on phosphate and nitrate in bodies of water.
Filtering the compounds could stop E. coli from the water, but leaving something else behind won't work.
"You may be able to get the precipitation to occur, but you don't want to introduce something harmful into the water," Slaven said.
The third group will design and build a prototype of the device.
If the device works, senior Drake Safronic said the class would look into having it patented.
"Colleges are starting to look for the students to take what they're learning and apply it out of the classroom," Slaven said.
The class will have a guest speaker Chet Cooper, biomedical professor from Youngstown State University, and Slaven said he'd like to take them on a tour of a water-treatment facility to give them a better understanding of the process.
The class will submit a 3-minute video describing their project by Feb. 13. If they advance, the class will receive another $50,000 in classroom technology, and their project will be voted on from March 1 to 25.
"They're excited to get started," Slaven said.
More like this from vindy.com