---
Friday, December 15, 2017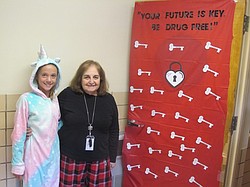 Photo
Neighbors | Zack Shively.The PTA led a door decorating contest among the teachers in the school. Their theme for the contest was that the "future is key." Pictured, Mrs. Jacobs stood with a student by her decorated door.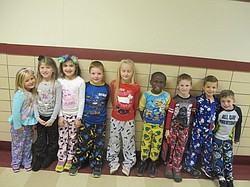 Photo
Neighbors | Zack Shively.Stadium Drive Elementary had a Red Ribbon Week from Oct. 30 until Nov. 3. They had different dress days with Wednesday, Nov. 1 being a day where the students dressed in pajamas.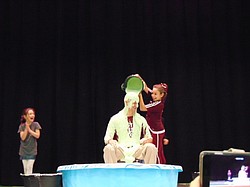 Photo
Neighbors | Submitted.The Stadium Drive Elementary School students surpassed the goal set by the school PTA. To celebrate, the school had an assembly in which they slimed Prinicpal Michael Zoccali.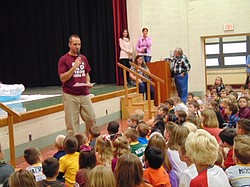 Photo
Neighbors | Submitted.Stadium Drive Elementary finished their Red Ribbon Week with a readathon assembly, celebrating their school's hard work during the PTA's readathon. Principal Michael Zoccali spoke at the assembly on Nov. 3.

Photo
Neighbors | Zack Shively.Students in Mrs. Soles class relaxed in pajamas during Stadium Drive Elementary School's Red Ribbon Week. The school spent the week talking about living a smart, drug-free life.
By ZACK SHIVELY
Stadium Drive Elementary discussed drug-free lifestyles and right choices throughout the week of Oct. 30 through Nov. 3 as a part of their Red Ribbon Week.
The Stadium Drive PTA organized most of the week's activities for Red Ribbon Week, a national effort to prevent drug use among students.
Principal Michael Zoccali said the school uses the week as "a way to have fun and show kids their decisions are important."
He said that the school talks about making right choices every day, but they stress the importance of the choices during the week. He spoke about choices over the loudspeaker each morning during the week. The teachers talk to the students about making correct decisions within and outside of the classroom.
The PTA created a dress theme for each day of the week for the students. On Monday, they celebrated the beginning of Red Ribbon Week by wearing red. The students came to school in Halloween colors on Tuesday. They relaxed in their pajamas on Wednesday. The students wore crazy socks on Thursday. The school dressed in the attire of their favorite sports team to end the week.
The teachers in the school decorated their doors for a contest put on by the PTA. The organization gave the teachers a key theme to work with to represent to the students that "the future is key."
The school had an assembly on Friday to celebrate Red Ribbon Week. Each student received a drug-free certificate from the Boardman Police Department.
The school also tied in their PTA-sponsored read-athon during the assembly. Students logged their time reading during a two week span. The school combined for 100,000 minutes, which exceeded the PTA's goal. As a reward, the students who had the most time spent reading got to slime Zoccali.