After Wednesday night snow, temperatures expected to rise over the weekend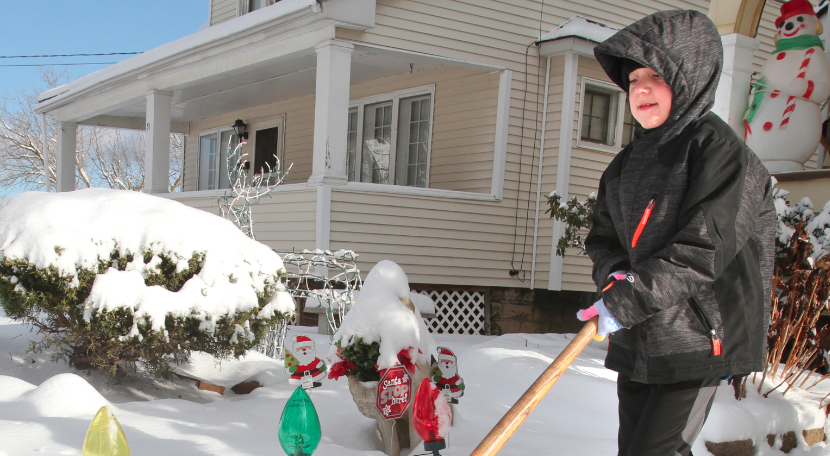 ---
Staff report
YOUNGSTOWN
Schools were canceled and snowplow drivers were busy clearing several inches of snow Thursday, but the snowflakes are expected to slow down, and temperatures will rise over the next few days, according to the National Weather Service in Cleveland.
Meteorologist Nick Greenawalt reported that the Valley got 3 to 5 inches of snow between Wednesday afternoon and Thursday morning. Late Thursday, light snow flurries were possible, and the low was forecast to dip into single digits.
Today, highs are in the mid-20s, and the Valley could get between 1 to 3 inches of snow, Greenawalt said.
"It looks like we'll start to see a little more quiet of a weekend, Saturday heading into Sunday," he said, reporting that temperatures will climb into the upper 30s Sunday and into the 40s at the beginning of next week.
Mahoning County Engineer Pat Ginnetti said things are going well and his crews would keep at the roads until they were clear.
"Take your time," Ginnetti cautioned drivers. "We're out there. Give us time."
Wednesday night's snowfall caused numerous Valley schools to close Thursday.
Austintown schools made the decision to cancel classes at 5:25 a.m. Thursday. Superintendent Vince Colaluca said determining whether to have school is generally collaborative.
"It's a lot of preparation ahead of time, and really it's waiting to see what happens," Colaluca said. "Last night definitely hit us."
The school district will consult the township and other school districts before a final decision.
Each building on campus is equipped for snow cleanup, and a list of substitute staff is on-hand for extra help, but in Thursday's case, Colaluca said having the day off was the correct decision.
"The No. 1 thing for us is student safety," Colaluca said.
Canfield Schools canceled classes Thursday as well.
"Everyone around us – they were going down," Superintendent Alex Geordan said. "When we do this, we try to triangulate."
When a snow day is on the table, Geordan said the district consults Austintown and Boardman schools, because all three districts share roadways.
"It was a difficult decision – it always is," Geordan said. "We don't take that lightly. But the safety and well-being of everyone comes to the forefront."
Plow drivers in Canfield Township worked a majority of last night, clearing roads for the second day of snowfall.
"We were ready for it," Administrator Keith Rogers said. "We knew it was coming. All we had to do was prepare and wait for Mother Nature."
Boardman and Poland schools closed Thursday, as well.
Jim Scharville, administrator for Poland Township, said snow removal went smoothly. The township maintains approximately 56 miles of road, with each plow driver assigned to a different area.
"Everything seemed to be good. Our guys were out bright and early," Scharville said.
Charles Shasho, Youngstown's deputy director of public works, reported that 10 trucks were out Wednesday night, 13 were out at 7 a.m. Thursday, and 10 were scheduled to be out Thursday night. By Thursday afternoon, main roads had been cleared at least once, and drivers were focusing their attention on side streets, Shasho said.
Shasho said the city first focuses on major roads such as Belmont Avenue, Market Street, Midlothian Boulevard, McGuffey Road and Mahoning Avenue.
"I was pretty happy," he said. "Everybody was ready. The plows were ready. We had plenty of salt."
Jerry Lambert, director of public service in Girard, wasn't expecting to have trucks go out any earlier than 11 p.m. Wednesday, but his road crews were plowing snow and salting roads from 7 p.m. until about 1 a.m.
"We are ready for anything else that comes. Our salt trucks are full, and our guys are getting rest in case they need to go back out tonight," he said.
More like this from vindy.com