Disney artist celebrates hometown Idora with pin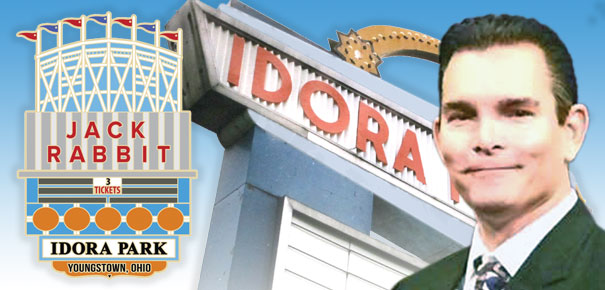 ---
By GRAIG GRAZIOSI
ggraziosi@vindy.com
YOUNGSTOWN
Before he began working "where dreams come true," Disney artist Gene Gonda's dreams were often of a much smaller theme park in the heart of the Mahoning Valley.
Like other Youngstown natives, Gonda — who now lives in Florida but grew up on the city's South Side — spent his youth riding rides and eating french fries at Idora Park.
"I used to love those french fries. Never had better," Gonda said.
Now, Gonda hopes to share his artistic gifts and memories of days gone by with other Idora Park enthusiasts through a limited-edition commemorative pin featuring the Jack Rabbit roller coaster — the first roller coaster he ever rode.

Though there are only 500 Jack Rabbit pins, Gonda said if there's an interest, he would like to make others featuring other attractions from the amusement park.
"If there's an interest for them I'd love to make pins for some of the other rides too, like the Lost River and the Wildcat," Gonda said. "I don't make much on the pins, but that's fine with me because I'm just making them because I love the park so much."
In addition to the pin series, Gonda said he's also interested in producing fine art prints depicting the attractions at Idora Park.
The images of the Idora Park logo and the rides are now in the public domain, so artists such as Gonda are free to incorporate them into their work.
Before moving south, Gonda was Youngstown through and through: He graduated from St. Matthias School before going on to study art and graphic design at Youngstown State University. He later worked as a DJ at WHOT-101 radio before being hired by Disney in 1996.
"A receptionist at the station ran in and told me Disney was on the phone. They told me if I could be in Florida in two weeks, I had the job," Gonda said. "I felt sheer terror, but I went and did it, and now I've been here for 21 years."
Gonda began his time working at Disney World working alongside the Imagineers — the engineers and designers who create attractions at the parks — painting animatronics and the heads of the costumed characters. In 2000, he took a different job in the company, creating illustrations for products sold in the parks, including a Tree of Life mug that is sold at the Animal Kingdom theme park as well as a series of limited-edition watches featuring characters such as Mickey and Minnie Mouse as well as Roger and Jessica Rabbit.
Though Disney is his life now, Gonda never lost his love for Idora Park.
"I remember my parents would take me down to the Dairy Queen nearby and we'd get ice cream before heading into the park to ride rides and eat french fries," Gonda said. "My favorite ride was the Lost River; I loved its adventure theme because I really liked Johnny Quest as a kid."
Gonda's pins can be purchased from his website, GeneGondastudios.com
More like this from vindy.com