Center Intermediate School PTA throws party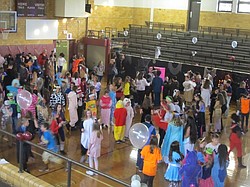 Photo
Neighbors | Zack Shively.Students danced in the Center Intermediate School gymnasium for the school's fall festival on Oct. 26. The PTA organized the event for the students to give them a safe opportunity to experience Halloween.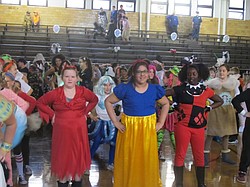 Photo
Neighbors | Zack Shively.Students did the "Macarena" during their fall festival at Center Intermediate. They had a dance party and pizza party, as well as costume contest and selfie station.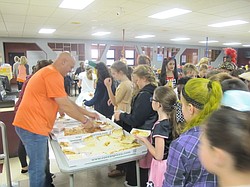 Photo
Neighbors | Zack Shively.Members of the Center Intermediate School PTA handed out slices of pizza to students during their fall festival. The event had 400 students registered and 45 PTA volunteers.
by ZACK SHIVELY
Boardman Center Intermediate School PTA hosted a fall festival for their fifth- and sixth-grade students on Oct. 26. Amy Ditz, PTA president, led the group in organizing the event. She created events on both floors of the school. They set up a dance party in the gymnasium while they had a pizza party on the floor above that in the cafeteria.
Ditz said she wanted to give the students a safe opportunity to experience Halloween. The PTA has two other events like this throughout the year with one in winter and another in summer. They want to do some fun activities for the children.
Assistant principal Matt Beard came to the event to help run it. He welcomed the students coming in through the auditorium entrance. During the event, he instructed the students to go where they needed to go.
The school had 400 students register for the event. They split the fifth and sixth grade up, placing one in the gym and the other in the cafeteria. The event also had 45 PTA volunteers to help accommodate the students.
The school had the event for the first time last year after the schools combined to the intermediate building at Center School. The PTA created the giant party for all students to come together instead of having individual parties in the classroom during the school day.
More like this from vindy.com