After final sentencing, prosecutor reveals how fatal biker shootings unfolded
By Ed Runyan
WARREN
Warren motorcycle gunfight trial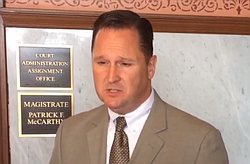 Video
Assistant Trumbull County Prosecutor Mike Burnett speaks on the June 18, 2016, killings of two motorcycle club members and injuring of two others outside a Warren Township tavern.
The refusal of key witnesses to testify against Forever Two Wheelz motorycle club president David Bailes Jr. and two co-defendants in the killing of two rival motorcycle club members and injuring of two others reduced prosecutors' options.
It led to plea agreements with all three defendants and prison sentences of 10 years for Bailes, eight for James Gardner and six for Charles Dellapenna III, the last of whom learned his sentence Thursday in Trumbull County Common Pleas Court.
The sentences were not long enough for Dana Hughes, wife of Walter Hughes, one of the two members of the Brothers Regime who suffered gunshot wounds but survived the June 18, 2016, shootings.
"The years that have been given are not even close to the years it's going to take to get my life back on track," she said at Dellapenna's sentencing hearing.
She had married Walter Hughes at the time of the shootings.
"I spent 33 days in the ICU not knowing if he was going to be OK or not," she said of her husband, adding that he still has more surgeries ahead of him.
"By the time we even get that part of our lives back together, let alone the grief and losses of everybody else, they will be walking the street with their families again, which we will never get to do," Dana Hughes said of the three defendants.
Mike Burnett, assistant prosecutor, said he is "not happy" with the sentences the three defendants received, but it was important to get convictions and prison sentences. The witness issues might have jeopardized that if the case would have gone to trial, Burnett said.
Brothers Regime president Robert "Chopper" Marto, 54, of Cortland and Brothers Regime member Jason "Foot" Moore, 41, of Bristolville were killed in the gunfire outside of Shorty's Place tavern on Highland Avenue in Warren Township. Hughes, 41, of Warren, and Andrew Claypool, 50, of Girard, were seriously injured.
Burnett said evidence would have shown that Bailes fired all of the bullets that killed Marto and Moore and injured Hughes and Claypool.
When Bailes arrived at the tavern and found out that the Brothers Regime were there, Bailes warned the women and children who had come to help FTW carry out a benefit motorcycle ride to leave, Burnett said.
Then Bailes approached Marto and fired all six of the bullets in his gun at Marto, who was found on the ground with his handgun nearby. It had not been fired.
Dellapenna fired his gun into the air 10 times but didn't hit anyone, Burnett said.
Bailes asked for another gun, and Gardner threw Bailes his, along with a spare magazine of bullets, Burnett said. Bailes fired 19 of those bullets as well.
The dispute began with Marto and other Brothers Regime members asking at the benefit-ride registration table if they could see the locations where the ride would be traveling. They were told they would have to pay the registration fee to get a map, Burnett said. The Brothers Regime viewed that as a lack of respect and went peacefully into the bar at that point, Burnett said.
When Bailes arrived, he went around the back of the tavern and told FTW members he was going to "have it out with Chopper," Burnett said.
Bailes spotted Brothers Regime members sitting in front of the tavern and said, "Which one of you is Chopper?" Burnett said. Marto stepped forward.
Bailes fired at Marto, hitting him in the shoulder and head, Burnett said. Bailes asked Gardner for his gun, and Gardner gave it to him. Bailes chased Moore and shot him five times, killing him, Burnett said.
Bailes also chased other Brothers Regime members, shooting Hughes and Claypool. But Claypool returned fire five times at Bailes, hitting Bailes once in the stomach. As to why Claypool was not charged for shooting Bailes, that was a "clear case of self-defense," Burnett said.
More like this from vindy.com
December 15, 2017 12:10 a.m.