Surprise reduction gives killer David Bailes Jr. 10-year prison sentence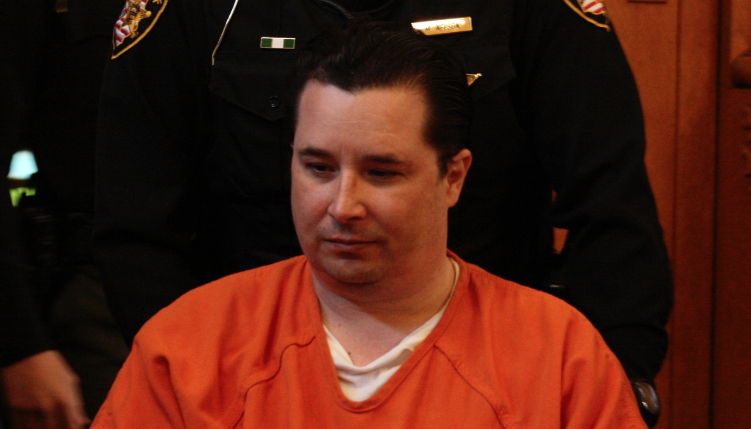 ---
By Ed Runyan
WARREN
Bailes sentencing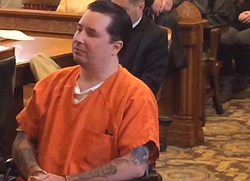 Video
David Bailes Jr. in court as he hears his 10-year prison sentence for his role in a gun fight with a rival motorcycle club in 2016 outside a Warren Township tavern.
Sandy Marto and Dana Hughes were wearing white dresses June 18, 2016, because they were supposed to be part of a wedding celebration.
Their husbands, Robert "Chopper" Marto and Walter Hughes, were going to the wedding, too. But they were on their motorcycles, and they stopped at Shorty's Place tavern on Highland Avenue in Warren Township to make a donation to a motorcycle-ride fundraiser, Sandy Marto said.
None of the four made it to the wedding. The women got a call on their way there telling them "everybody was dead," Dana Hughes said Tuesday at the Trumbull County Courthouse.
Robert Marto, 54, of Cort- land and Jason "Foot" Moore, 41, of Bristolville died outside the tavern from gunshot wounds to the head. Dana's husband, Walter Hughes, 41, of Warren and Andrew Claypool, 50, of Girard, suffered life-threatening injuries but survived.
All four were members of the Brothers Regime motorcycle club of Leavittsburg. The club sponsoring the fundraiser was Forever Two Wheelz of Warren.
Sandy Marto spoke Tuesday at the sentencing for David Bailes Jr., 46, of Warren, the former Forever Two Wheelz president, who authorities say fired most of the gunshots that caused the injuries that day. Bailes also was critically injured by return fire.
"On June 18, 2016, I lost my Chopper. I didn't get to see him close his eyes. I didn't get to see him take his last breath. I didn't get to hold his hand. All I heard is he was gone, and it was too late to say goodbye," Sandy Marto told Judge Andrew Logan of Trumbull County Common Pleas Court.
The judge followed the recommendation of prosecutors and sentenced Bailes to 10 years in prison after Bailes accepted a plea agreement Monday. The plea reduced Bailes' charges from aggravated murder to involuntary manslaughter and felonious assault.
Mike Burnett, assistant county prosecutor, said he would not discuss the reason for recommending smaller-than-expected prison sentences for Bailes and co-defendant James Gardner, who got eight years in prison. He said he will talk after the third defendant, Charles Dellapenna III, is sentenced.
When Gardner, 49, of Warren pleaded guilty to reduced charges in June and accepted a plea agreement calling for 15 to 20 years in prison if he testifies against his co-defendants, it seemed likely Bailes would get more prison time than Gardner. Authorities said Gardner never fired a gun.
But when Burnett said Tuesday he was recommending only 10 years in prison for Bailes, the only explanation was because of recent "complications" in the case, apparently related to cooperation from witnesses.
It was because of such concerns that prosecutors took witness Dayton Lough into custody and brought him to the courthouse Oct. 3 to provide videotaped testimony about the shootings.
In that hearing, Lough, a Forever Two Wheelz member at the time of the shootings, testified that Bailes and Marto engaged in a confrontation after Marto, Moore and other Brothers Regime members showed up at Shorty's Place and asked to see a map showing the stops on the benefit ride.
They were told they had to pay for the ride to get a map, which angered them.
Lough said Bailes called out from 100 feet away: "Who's Chopper?" to which Marto replied, "I am, [deleted]."
When Forever Two Wheelz members pointed handguns at Brothers Regime members, the Brothers Regime put their hands up, Lough said.
Gunfire erupted soon afterward, including shots from Bailes. Marto went down, Lough said. Bailes ran out of bullets, asked for another gun, and Gardner gave him one, Lough said. He never saw a gun in the hands of Marto or Moore, Lough said.
Sandy Marto said her husband "was the type of person you could talk to, you could work with, whatever differences you had." But Bailes "decided he was going to murder somebody," she said.
"He didn't know my husband, didn't know what he looked like. He called him out and he pulled the trigger, and my husband never got a chance," she said.
Walter Hughes told Judge Logan Marto and Moore "were two men who I loved and respected very much. They no longer get to see their children or their wives. Another man I love and respect was injured greatly, and he almost died that day. He's still here. I almost lost my life."
More like this from vindy.com
December 13, 2017 12:09 a.m.