YBI celebrates fifth building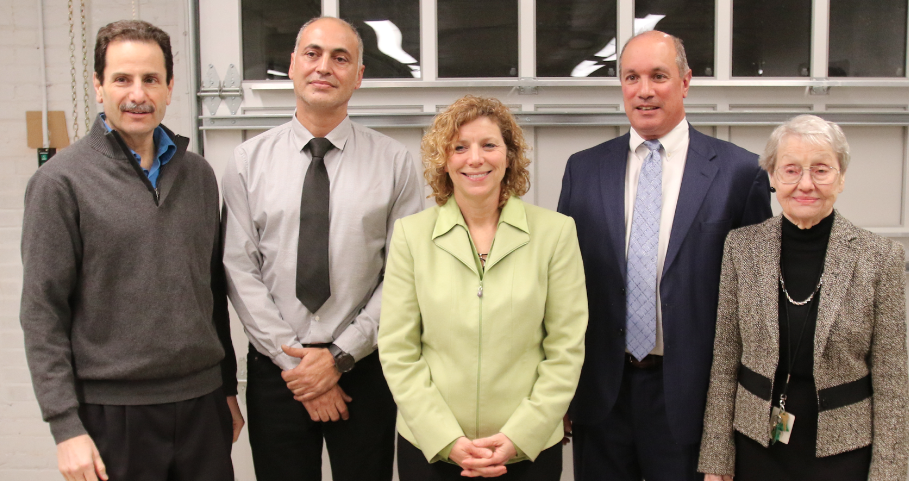 ---
By Kalea Hall
YOUNGSTOWN
Five years ago, America Makes came to town and brought with it additive manufacturing.
The Youngstown Business Incubator, then a software incubator, quickly realized additive manufacturing needed to be in its future.
"It was a good next step for us," YBI CEO Barb Ewing said.
YBI has since added several additive manufacturing startups as portfolio companies, and with those came the need for more space.
Now, it has that space in the 65,000-square-foot former Vindicator building at the corner of Boardman Street and Vindicator Square.
YBI celebrated the addition of Tech Block Building No. 5 on Monday evening with its local, state and national supporters.
Jeannette P. Tamayo, Chicago regional director for the U.S. Economic Development Administration, attended to congratulate YBI.
"We have great confidence that we will be back here in five years to celebrate even more success," she said.
Renovations of the new building were completed with a $3 million U.S. Economic Development Administration award, a $1.5 million state award and a $500,000 award from the city.
"This night is not about us," Ewing said.
Instead, the night was about YBI's supporters.
The Maag, Jagnow and Brown family received a special dedication during the event.
"So much of Youngstown's history has been chronicled in this building by extraordinary people who have taken the time to truly understand what's happening in our community and our world and to build a story around that," Ewing said. "We truly owe them a debt of gratitude for their work in making sure we have a history to remember and a future to understand."
The Vindicator, Ewing said, has been a "tremendous" supporter of YBI through the years, consistently assisting the incubator to expand its now five-building downtown campus.
The late Forest Beckett, a local businessman, initially encouraged support of the YBI.
"We thought it made a lot of sense to help diversify the economy," said Mark Brown, general manager of The Vindicator.
YBI took over the former Vindicator building in 2015. The building was constructed in 1931 for The Youngstown Telegram. In 1936, The Vindicator acquired The Telegram, and the next year, the newspaper relocated there. News operations relocated to a newer production building on Front Street in 1988, with all operations consolidated there in 2015.
"There are mixed emotions because four generations of our family have worked in this building over time," Brown said after touring the facility. "It was a great home for us and it will be a great home for them going forward."
The building that once housed the printers that printed Youngstown's history will now house printers that print parts to help companies be more competitive.
The Israeli company XJet Ltd. selected Youngstown as the first U.S. site for its Carmel 1400 additive manufacturing system, which features patented NanoParticle Jetting technology for the production of metal or ceramic parts through inkjet printing.
The system, which will be utilized for ceramic materials for research and development and parts production, will be installed in the new building next month.
The vision and hope of Youngstown is in part why XJet chose to come here first.
"When you have something to give, I prefer to give it to the guy who is hungry," said Avi Cohen, vice president of health care and education for XJet. "I saw the potential here and the opportunity for them and us."
Three YBI additive manufacturing portfolio companies already have space inside the new building.
Locally founded JuggerBot 3D, an industrial 3-D printer company, is one of those companies.
"This facility is going to help us fulfill orders and grow into the business we can become," said Dan Fernback, CEO of JuggerBot.
Youngstown State University, a partner of YBI, will also benefit from the new facility. Soon, students will be inside working with the additive manufacturing equipment.
"Our best learning is when we are doing applied learning," said Mike Hripko, associate vice president for research at YSU. "It's just a point of pride that the community has embraced the technology. It's so gratifying."
More like this from vindy.com