Booker remembered as civil rights icon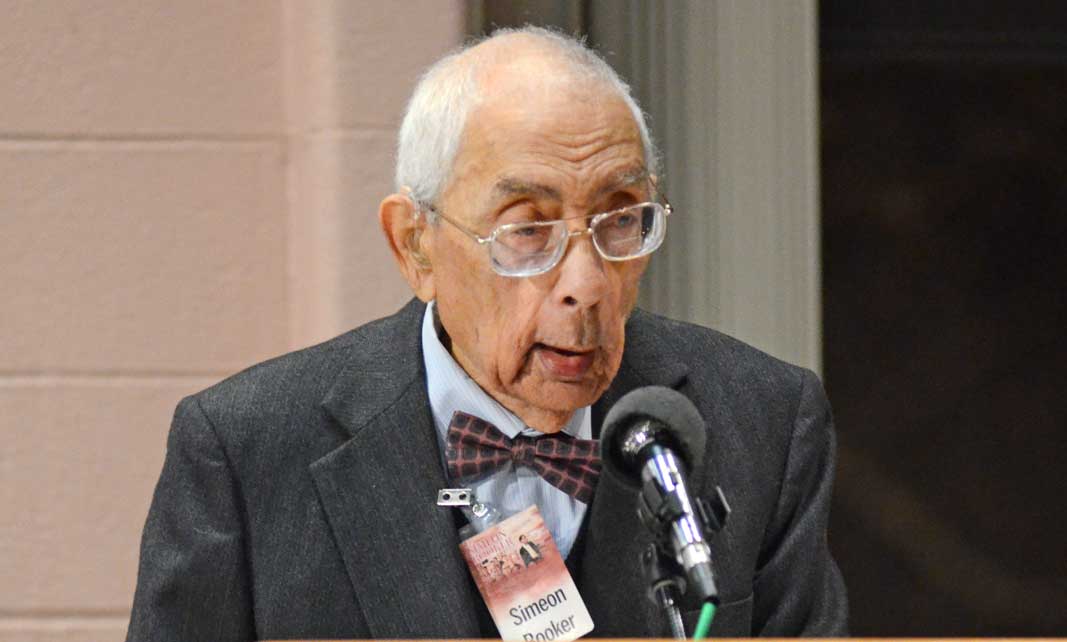 ---
By Todd Franko
The Rev. Lewis Macklin remembers reading Jet magazine as a 9-year-old many decades ago.
The publication was a staple for thousands of African-American families in Youngstown and throughout America.
"I remember reading the 'Ticker Tape' column and saying the writer's name 'Simon Booker,'" recalled the man who leads Holy Trinity Missionary Baptist Church on Sunday night.
His grandmother, Ora McCain Barrett, immediately corrected him.
"She said, 'That is Sim-e-on Booker ... And he's from Youngstown,'" Rev. Macklin said with a laugh.
That moment has stayed with the Rev. Macklin all these years later, and it was the first story he shared when reflecting on the life of Simeon Booker Jr., which ended peacefully Sunday in Maryland with his wife, Carol, and son, Teddy, with him.
Booker was 99.
Booker was a South Side Youngstown native whose heroic reporting in the 1950s and 1960s helped galvanize America's civil rights movement. His work reporting on the death of Emmett Till thrust the case onto the national stage. From that moment in 1955, Booker knew the role he wanted to play.
For the next 20 years at the height of the civil rights movement, Booker put himself on the front lines of many of the historic moments in the Deep South — inviting risk and death, but ensuring stories were told in ways the white mainstream press avoided.
Those stories made it around the world, and to Youngstown and young people like the Rev. Macklin.
"There was no template to go by for the civil rights movement," the Rev. Macklin said. "It was a fluid movement. Simeon's reporting was critical. You could know who was who in the movement – and break down the mysteries of what was happening."
Booker grew up on Myrtle Avenue on the South Side and graduated in 1938 from South High School.
Booker's father was the founder of the Black YMCA in Youngstown and was also the first minister of Third Baptist Church. The YMCA closed after many years of grooming minds like Barrett, Simeon Jr. and Judge Nathaniel Jones.
It is now the Rescue Mission on Martin Luther King Jr. Boulevard.
"I still don't see it as the Rescue Mission," the Rev. Macklin said. "I see it as the Black YMCA – a monument and legacy to the Booker family. I'm sure Simeon Sr. wanted his son to be a minister. But Simeon Jr.'s message was different than a pulpit; the power of the pen and strength of a camera. Truth and clarity."
Booker attended Youngstown College, but after a year, he became incensed at the separate and lesser lives blacks had to lead on campus. He told his father he was going to confront the school about it. His father would not allow that path, and Booker transferred to Virginia Union.
Youngstown was never home again for him.
He had always wanted to be a writer, and The Vindicator played a role from childhood through college.
"The Vindicator hired a Negro to write a column called 'News Notes for Colored Folks.' Into this column went everything about the city's 'colored folks,'" wrote Booker in his 2013 autobiography "Shocking the Conscience."
Booker recalled that column was an early inspiration for him to be a writer. He also recalls legendary Vindicator writer Esther Hamilton taking him under her wing. She published some of his work.
While in college, Booker would write game stories for The Vindicator from the local black baseball leagues. After college, Booker bounced around newspapers in Maryland and Ohio.
Jobs for a black reporter in the white-owned press were not common in the 1950s, but Booker persisted – especially with the Washington Post. A Post article recounts Booker's hiring as the paper's first black reporter in 1952: "Publisher Phil Graham said if you can take it, I'm willing to gamble."
About his Post reporting, he once said: "If I went out to cover a holdup, they thought I was one of the damned holdup men."
His time at the Post ended in 1954. He jumped to the black-owned Johnson Publishing in Chicago, owners of Jet and Ebony magazines, and history had a change-agent with a platform.
He continued reporting until 2007.
His life and work engaged the epic personalities of those eras — the Kennedys, Richard Nixon, Martin Luther King Jr., J. Edgar Hoover, Dwight Eisenhower, Ronald Reagan, Barack Obama and others.
With that legacy, Youngstown leaders set out in 2013 to connect Booker and his Youngstown roots. YSU made him a commencement speaker in 2013, which eventually led to the creation of the Simeon Booker Award for Courage, given the last two years during October's Ohio Nonviolence Week.
In February, U.S. Rep. Tim Ryan of Howland, D-13th, was one of three congressmen to introduce legislation to award the Congressional Gold Medal to Booker.
Ryan says he couldn't think of a more worthy American to receive Congress' highest honor.
In this statement issued Sunday night, Ryan paid tribute to Booker: "Today we lost a groundbreaking journalist, a civil rights icon, and a true American hero. Simeon Booker devoted his life's work to breaking barriers and changing the hearts and minds of all those he touched through his writing. Simeon Booker was the definition of American exceptionalism."
Madonna Chism Pinkard and Penny Wells each has played roles in the projects.
"When I heard the news of [his] passing, my heart hurt at first," said Chism-Pinkard, who works for 21 WFMJ-TV, The Vindicator's broadcast partner. "But then I had a good feeling to be able to relish in his legacy and know that I am a part of it. He created a media platform for news that was crucial to blacks and laid a foundation of excellence in journalism for me to follow."
Wells directs Ohio Nonviolence Week.
"Booker wasn't afraid to stand up for what he believed was right," she said, "knowing each time he covered an injustice in the South, he was putting his life on the line. We should be proud that he grew up in Youngstown, Ohio."
The Booker courage award debuted in 2016 and was given to Judge Jones. The two men traveled the world in their quest for justice and equality, yet they grew up blocks from each other in Youngstown. The elder Booker served as a mentor to Jones.
The pair made a formidable duo in American civil rights history — Booker's iron words meshing with Jones' softer injections.
"I don't think we'll see another Simeon Booker," Jones said Sunday. "This generation now – they don't have sense of the ground he had to plow. He went to places people don't today. Simeon's work emboldened others – and he was that way even in high school in Youngstown."
In 2016, Jones said he likely would not have been selected by President Carter to be a U.S. judge if not for Simeon's frequent referencing of Jones in Jet magazine.
"History will record that Simeon Booker – through his years of reporting – put together a web of knowledge and information that spurred candidates (of color) to believe they could win, including President Obama."
Booker was unflinching.
Before his 2013 re-emergence locally, his last reported significant local appearance was to speak at a Youngstown mayor's function in the early 1970s. He was warned that his speech should not discuss the city's minority hiring levels.
He told them that he was no longer coming.
He was even not beyond challenging Martin Luther King Jr. King wrote a letter in 1959 chastising Booker's criticism of his work, saying they need to work together for equality.
That would happen soon enough.
The 1961 Freedom Rides left Washington, D.C. for a pivotal 13-day protest ride through the South. The trip grew intensely violent as the two buses crossed into Alabama.
King had urged Booker to not join the bus rides.
"You won't make it to Montgomery. They will waylay you," Booker reported King telling him.
Still, Booker went.
On the threat of violence that 1961 day, Booker wrote: "I thought of my wife and three kids in Washington. But fear never produced progress."
More like this from vindy.com