100 kids delight in holiday shopping spree with cops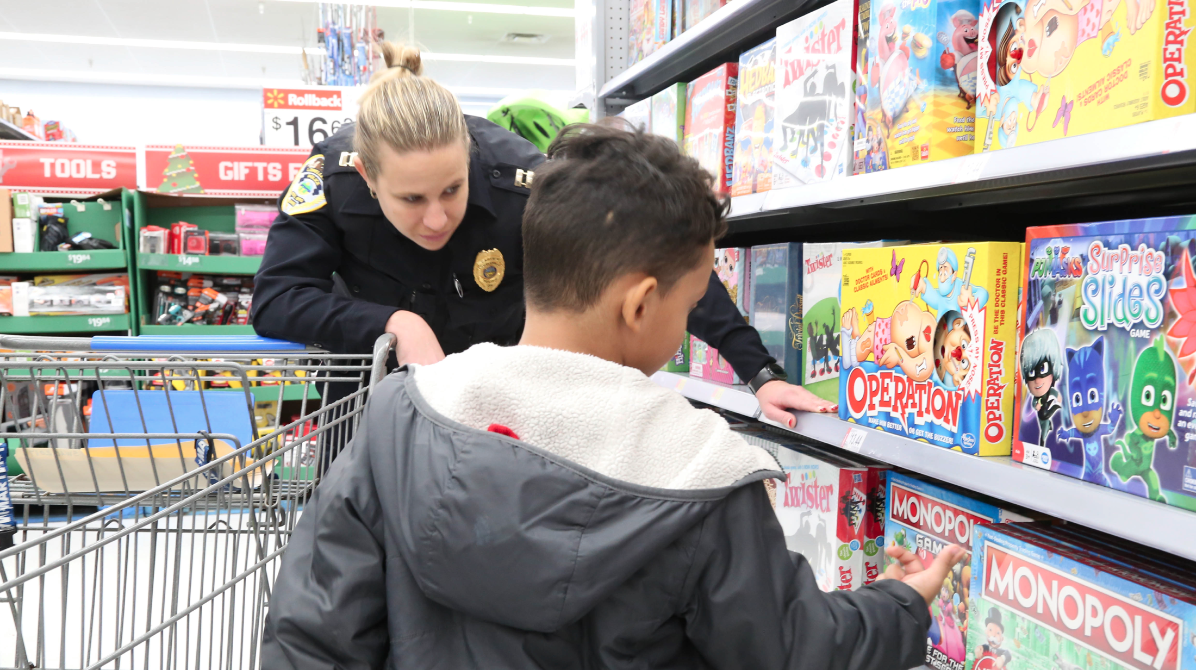 ---
By Sean Barron
BOARDMAN
Christopher Colon's preference for Luigi over the fictional character's fraternal twin brother, Mario, is simple: mere height.
"I like Luigi because he's taller than Mario," the 7-year-old Lowellville boy explained about why he favors the largely green-and-blue character, which is part of the popular Mario Bros. series of Nintendo games.
The two characters' height notwithstanding, you could safely say Christopher felt quite tall and his sense of joy received a big boost as he roamed the aisles in Walmart and selected a variety of items on his holiday wish list.
Christopher was among the more than 100 youngsters from Struthers and Lowellville who experienced an early taste of Christmas, courtesy of Sunday morning's sixth annual Shop with a Cop gathering at the big-box department store at 1300 Doral Drive.
Officers from the Struthers and Lowellville police departments, along with firefighters, teachers, business leaders and volunteers, were paired with the children for the shopping expedition. The youngsters each were given $100 stipends, $50 of which was to be spent on clothing and $50 on toys, noted Capt. Pat Bundy of the Struthers Police Department.
"We see these kids on a daily basis, and for some, this is the only thing they get at Christmas," Bundy said, adding that the community-oriented event has grown considerably since its inaugural year, in which 14 youngsters participated.
Accompanying Christopher was Capt. Stacy Karis, who's served six years with the Lowellville Police Department.
The two meandered their way through several aisles as they filled their shopping cart with items that included a Super Mario 3-DLand video game, a pair of pajamas, a school uniform and a T-shirt emblazoned with some of the Minion characters.
After some consideration, Christopher also reached a decision on the board game of his choice, selecting "Pop the Pig" over the popular "Operation" game.
For Karis, however, roaming the store for merchandise to brighten the youngsters' holiday was about a lot more than merely amassing fun toys and needed clothing.
"We have a very trying job, but it's about giving back to the community, and we could not do this event without the community," Karis said.
Following a similar course to that of Christopher was 13-year-old Andrew Sinclair of Struthers, who was paired with Gina Calpin, a teacher's assistant with South Range High School.
"I have two children, and I'm blessed in many ways. To give back to someone is very fulfilling," said Calpin as she and Andrew set off to buy merchandise for him, such as undergarments, sweatshirts and video games.
The Struthers Middle School seventh-grader also listed spending time with family and opening gifts as his main goals for Christmas.
Other items the youngsters filled their carts with included model drone sets, pairs of boots, pajamas and jogging pants, a Barbie doll birthday assembly kit and cash register, coats, Sony PlayStation games, a wristwatch, inflatable footballs and basketballs, model cars and a play smartphone.
Ten-year-old Jayci DiRenzo, a Struthers Elementary School fourth-grader, selected a variety of T-shirts, a pair of shoes and a winter coat, along with a set of razor roller skates that attach to one's heels and a doll that changes colors.
Accompanying Jayci, who plans to stay up to await the arrival of Santa Claus on Christmas morning, was Sheri Noble, a volunteer, who said she deeply appreciated having the opportunity to take part in the fun-filled event.
Also happy to oblige with the overall effort was Brandon Wood, a Walmart assistant manager ,who said the store enjoys the community-outreach aspect of Shop with a Cop and is "happy to be part of this event each year."
"Our community never ceases to amaze me," said Bundy, who noted that the program also received an anonymous $500 donation.
In addition, volunteers buy gifts for the children's younger siblings so they too feel included, Bundy continued.
Chief Rick Alli of the Lowellville Police Department praised Karis for performing much of the legwork that made the event possible.
More like this from vindy.com