Firefighters honored at event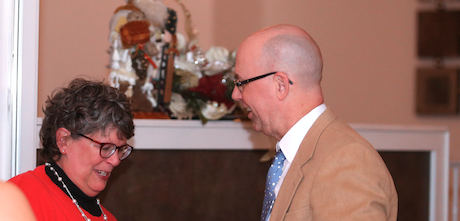 ---
By Sean Barron
LOWELLVILLE
Ask Jake Ezzo about his crowning achievements as a firefighter, and you'll likely get a straightforward, if not modest, response.
"I'm proud to be working as a team with the other guys. It's a privilege to go out on calls and serve the community," Ezzo said with a touch of humbleness about his priorities. "I feel [the community] owes me nothing, but that I owe it everything."
Even if he weren't owed anything, suffice it to say that Ezzo was richly rewarded for his service to the community during Saturday evening's Christmas party and awards dinner at Bogey's Riverside Banquet & Conference Center, 3404 New Castle Ave., just off state Route 289.
Ezzo was among the Western Reserve Joint Fire Department firefighters, emergency medical technicians and paramedics who took home awards for having saved several lives this year. Many also received awards for their personal accomplishments, as well as their length of service and number of responses during the year.
Chief Dave "Chip" Comstock acted as master of ceremonies.
Ezzo, who's served three years with the department, added he "fell in love" with the idea of being a firefighter, courtesy of a friend.
The safety-force members were recognized and honored for six life-saving calls this year, many of which included residents who had gone into cardiac arrest or had stopped breathing. Four members, Abigail and Joe Buday, Scott O'Hara and Dave Yash, were awarded for their handling of an incident in April in which an employee with the Pour House Bar & Grill on Center Road (U.S. Route 224) suffered severe burns after having accidentally spilled a pot of grease on himself. He was later taken to a Pittsburgh hospital.
One of the more emotional moments came when Comstock praised the efforts of the late Capt. Don Zimmerman, who died this year after having served more than 30 years with the department. The chief presented Zimmerman's helmet and badges to his wife, Carol Zimmerman, and the family.
Other awards went to Ian Harker, emergency medical service provider of the year; Ezzo, firefighter of the year; and Assistant Chief Jim Stewart, officer of the year.
In addition, pins were distributed to those who have served from one to 40 years with the department.
Of Stewart, Comstock said, "He's been a rock to me and many others on this department."
Stewart was rewarded mainly for his more than 40 years of service, level of professionalism and commitment to the community.
More like this from vindy.com