Canfield chem students advance in national contest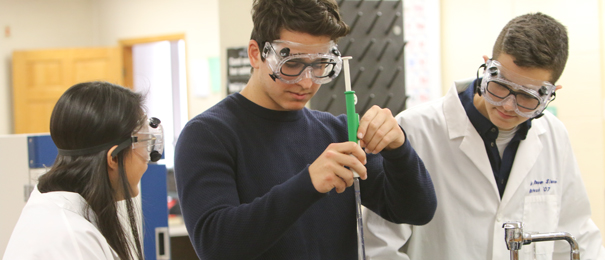 ---
By BILLY LUDT
bludt@vindy.com
CANFIELD
Chemistry students at Canfield High School represent one of five districts in the state to advance in a national competition.
Tom Slaven's AP chemistry class submitted a proposal to Samsung's Solve for Tomorrow Contest for a device that theoretically would lower E. coli counts in bodies of water.
Solve for Tomorrow tasks students with solving a problem in their community through the classroom using science, technology, engineering, arts and math.
"The biggest thing is I just want the kids to understand that you can apply what you're learning in here and take it out there," Slaven said. "The other good piece is that it's addressing a real problem."
A discussion during home period in Slaven's classroom led to the topic of local lake closures.
Lakes Newport, Glacier and Cohasset in Mill Creek MetroParks were closed in summer 2015 for high E. coli counts and didn't reopen until a year later. In summer 2016, Mosquito Lake in Cortland was closed for a period for the same reason.
When Solve for Tomorrow came up in one of Slaven's AP chemistry sections, the conversation on E. coli carried over from homeroom, and the class found a problem to tackle.
"It feels like we're doing something that's actually relevant," said junior Philip Stanic. "It's nice to do something in class that isn't typical."
The class represents one of 255 districts nationally to advance. The next phase in the contest is developing a prototype for submission. Slaven is splitting the class into three groups to work on designing the prototype, testing phosphate reactions and testing nitrate reactions.
How can someone curb E. coli's presence in a body of water? Slaven and some students are trying to figure it out.
"This is applying what we're learning in the classroom, and with the applications, you can actually help people," junior Jessica Lee said.
A treatment tank in Slaven's classroom takes water containing chemicals and runs it through lime and calcium carbonates to clean it. They plan to apply a similar process to water in local lakes.
The class has simulated a process for its proposed prototype in class by creating precipitation reactions with phosphate and nitrate. Bacteria grow on nitrates and phosphates, and filtering those elements out of water could curb E. coli's presence.
The students introduce nitrate and phosphate and observe how the elements dissolve in water.
The challenge, Slaven said, is filtering E. coli out of water without introducing anything harmful in the process.
Algae blooms and high E. coli presence in waterways threaten freshwater availability for the human population. The bacteria commonly enter bodies of water from human and animal feces caught in rain runoff.
For having its submission accepted, the class received a Google Chromebook laptop.
If they make it the whole way, they'll win $25,000 in technology and a technology kit to create a video explaining their device. If they don't advance, Slaven said the class might continue with the project.
"This is real science," Slaven said.
More like this from vindy.com