YSU signs Tressel for another year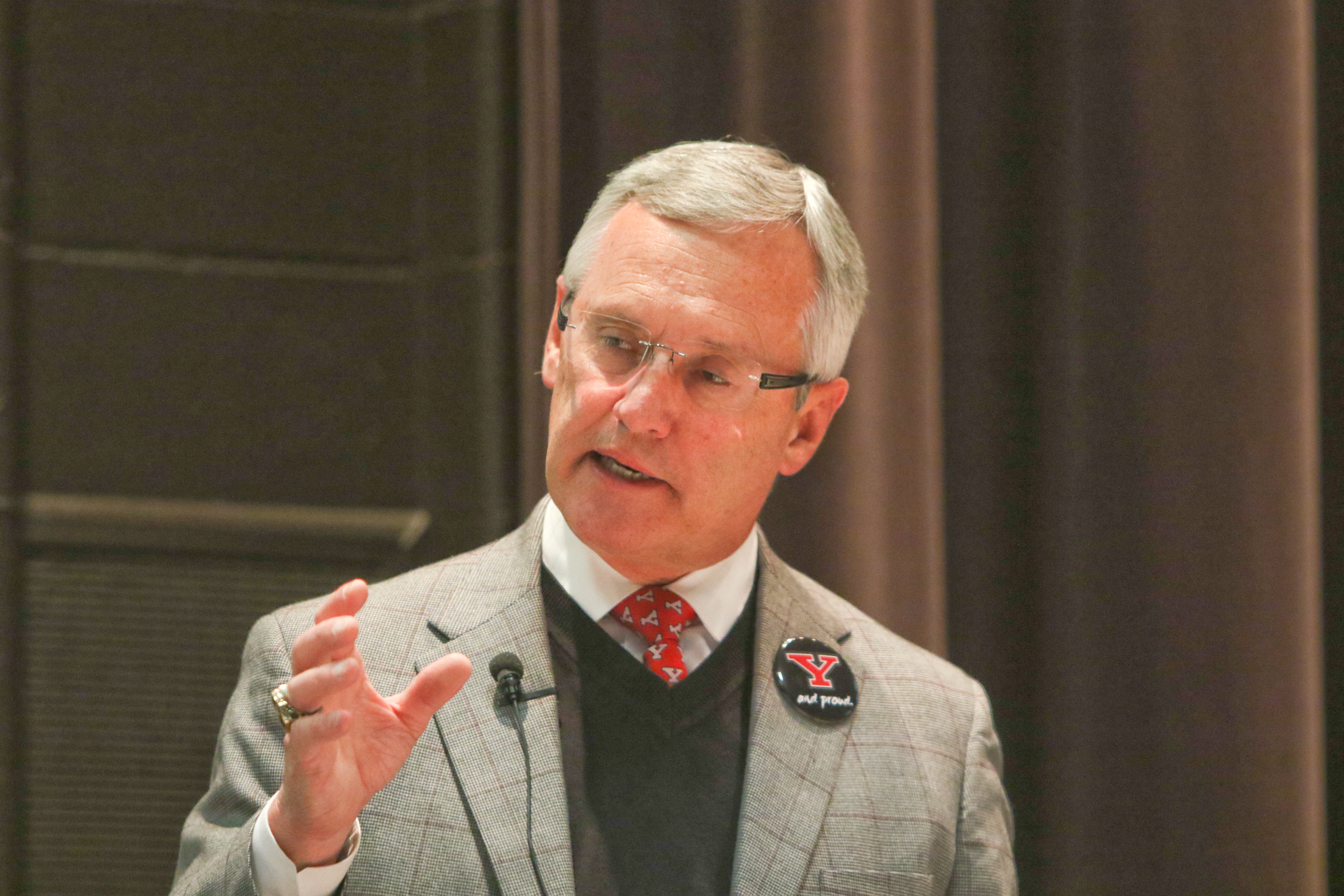 ---
YOUNGSTOWN
Youngstown State University President Jim Tressel will lead the university for another year.
The YSU Board of Trustees voted unanimously Thursday to extend Tressel's contract to June 30, 2019. Tressel's annual salary is $300,000.
Leonard Schiavone, board president, said the extension is an acknowledgment of the progress Tressel has made over the past four years.
Under Tressel's leadership, YSU's freshmen enrollment increased 25 percent; the most recent freshmen class has the highest standardized-test scores and grade-point averages in the university's history; residence halls are at capacity; one privately financed student apartment complex has opened and is at capacity, and a second is now under construction; a new Barnes & Noble student bookstore also has opened on the west side of campus; and the university approved its first operating budget in five years without a deficit.
"We have previously spoken about extending the term longer, but the president made his commitment to the university on a yearly basis. We [trustees] want to make sure, as best we can, that the things [Tressel] set in motion will be brought to fruition," Schiavone said.
Some of those things include the $100 million "We See Tomorrow" capital campaign and the creation of the Mahoning Valley Innovation and Commercialization Center.
The MVIC facility will be at the corner of Fifth Avenue and Commerce Street and will be a collaboratively used manufacturing lab.
Tressel said he looks forward to working hard on his long list of goals for the university.
"I want us to continue on the trajectory we're going," he said.
The one-year extension is something Tressel said gives him a sense of more-immediate accountability.
"I work better under deadlines," he said.
U.S. Rep Tim Ryan of Howland, D-13th, one of the many Tressel advocates from Tressel's start at YSU, said he is happy about the extension.
"Jim Tressel is the right man for the job," Ryan said. "I congratulate him on signing a one-year extension as President of YSU. He will continue to lead YSU through these challenging and exciting times. ... President Tressel understands the importance of using Youngstown State as not just a place for higher education, but also a driver of local economic growth. I'm excited he has another year to continue executing his vision for YSU and the region."
Trustees also approved the Penguin Tuition Promise, a program locking in a student's tuition rates for four years, pending the state chancellor's approval.
The plan will begin with students enrolling next fall with a tuition cost of $8,899 annually. That rate stays in effect for the next four consecutive years of a student's enrollment, along with room and board for university housing at $9,400 per academic year.
"The tuition promise will be a great thing for families to know for four straight years ... what the cost is going to be," Tressel said.
The promise also hopefully will give students a new sense of urgency, he added.
"[Students] will say, 'Here's the rate I can get for school right now. I need to finish in four years,'" Tressel explained.
More like this from vindy.com