Mayoral hopeful claims fraud, seeks new election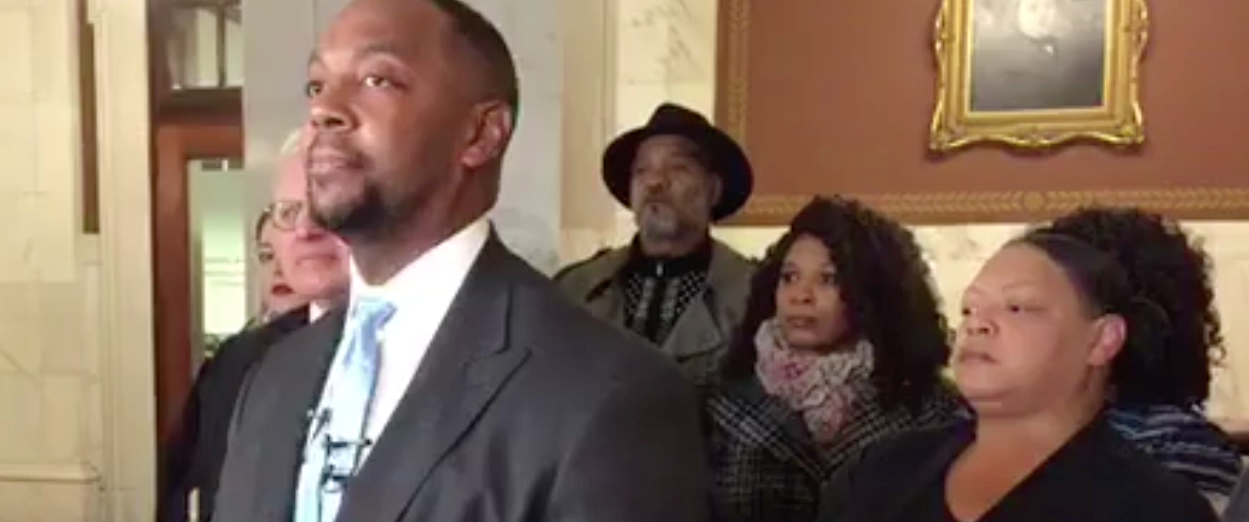 ---
McKinney lawsuit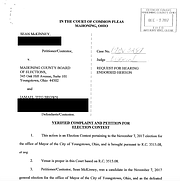 Document
Sean McKinney, who lost the Youngstown mayoral election by 201 votes, filed a complaint today contesting the election's outcome.
YOUNGSTOWN
Sean McKinney, who lost the Youngstown mayoral election by 201 votes, said there was widespread "election fraud with many irregularities" and filed a court complaint demanding a new election.
"Our most sacred right as citizens is the right to vote," he said Thursday after filing the complaint in Mahoning County Common Pleas Court. "Citizens in the city of Youngstown deserve the right to know that their vote counted and that it was counted correctly. They also deserve a clean and fair election. They didn't get that on Nov. 7."
The 14-page complaint was assigned to Judge John M. Durkin. A date on a hearing could be scheduled as early as today.
Donald C. Brey, McKinney's attorney from the Columbus law firm of Taft Stettinius & Hollister, said Thursday a new election is the only way to truly show who voters want as their next mayor.
After a common pleas court judge rules on this case, any appeal automatically goes to the Ohio Supreme Court, Brey said.
The complaint was filed against the Mahoning County Board of Elections and Democrat Jamael Tito Brown, the mayor-elect. McKinney ran as an independent candidate.
"The voters have spoken, and everyone should accept the will of the people," Brown said. "When you run a campaign, there's a winner and a loser. I've lost, and I know it doesn't feel good, but you have to accept the will of the people."
Mark Munroe, elections board chairman and head of the county Republican Party, said allegations of "election fraud are absurd. There are extensive checks to ensure that every election is conducted fairly and that the results reflect the will of the voters."
He added: "The complaint contains numerous allegations, and the board will respond to each and every question that was raised. I am confident that at the end of the day, the courts will agree that the election was fair and the results are correct. Nothing is more important than faith and confidence in our voting system, and we are committed to being open and transparent about every part of the process."
Brey and McKinney said they want a new election.
When asked if that's happened before, Brey said he didn't know, but state law provides that as a remedy if an election is deemed invalid.
Munroe said overturning the results of a certified election is a "high bar to meet."
In McKinney's complaint, he pointed to several cases in the Nov. 7 election of what he called "election fraud."
David Betras, elections board vice chairman and county Democratic Party chairman, said: "The Ohio Supreme Court has ruled you're entitled to a fair election, not a perfect election. In every election, no system is perfect. It doesn't make an election invalid. I stand by this election. It was a fair election."
Yet, this isn't the first time the Nov. 7 election has been called into question.
After The Vindicator reported a mistake led to double counting of more than 6,000 early-vote ballots, Secretary of State Jon Husted is having the board conduct an internal review of what went wrong.
McKinney asked people who believe there were problems with their ballots to go to the website ivotedformckinney.com and tell their story.
The complaint also details cases in which two people who were ineligible to vote were given regular ballots to vote rather than provisional ones; two people were "wrongfully denied the right to vote either a regular ballot or a provisional ballot"; and one person's vote was shown by a ballot machine to be "cast at a time when the voter was not at the voting location."
The complaint also alleges that in two precincts – 6E and 7G – no precinct officials signed poll books, which affects at least 274 votes.
"One purpose of this requirement is to prevent any tampering with the results after the polls are closed," the complaint reads, adding "as a result, the integrity of the results from those precincts are uncertain."
The complaint also alleges that when officials went to nursing homes to help people vote early, Brown's campaign was notified and improperly provided assistance. Also, 16 people marked as refusing to vote or had other reasons why their votes were not able to be counted were listed as voting, the complaint states.
"We have heard about people in nursing homes being used as political pawns," McKinney said. "People who can't even ask for a glass of water but somehow requested an absentee ballot."
Brown said his campaign didn't help people in nursing homes vote.
McKinney said, "The voters need and deserve answers to all of these questions before anyone can be declared the next mayor of Youngstown. We're asking the court to remedy these fraudulent irregularities by holding a new election overseen by the secretary of state."
Betras said nobody voted twice and people who make mistakes on their ballots can request up to three ballots, but only one is counted. He also said signatures don't always match.
"But when people vote, they have to show a photo ID or a bill," he said. "Exact signatures aren't grounds to throw out ballots."
More like this from vindy.com