Win a designer handbag from Canfield Girls Basketball Boosters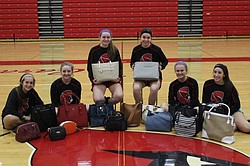 Photo
Neighbors | Abby Slanker.Members of the Canfield High School girls basketball team displayed several designer handbags which will be given as prizes at Designer Bag Bingo at St. Michaels Parish Family Life Center Jan. 20.
By ABBY SLANKER
The Canfield Girls Basketball Boosters will host a Designer Bag Bingo fundraiser at St. Michaels Parish Family Life Center on Jan. 20.
Thirteen games of bingo will be played, with an authentic designer handbag, including Kate Spade, Michael Kors, Coach, Tory Birch, Versace, Roberto Cavalli and Phillip Lim, awarded as the prize for each game. The handbag for the grand finale game will include the highest valued handbag filled with gift cards.
A raffle will also take place for a small bundle and large bundle, which will include purses, a wallet and gift cards. A 50/50 raffle will also be available. Door prizes will be drawn in between each game, with prizes such as wallets and gift cards awarded. The 12 door prize winners' tickets will then be put back in the 50/50 raffle for another chance to win.
Tickets are $40 pre-sale and $45 at the door and include 12 rounds of bingo, grand finale bingo, hors d'oeuvres and one drink ticket. Additional bingo cards and daubers will be available to purchase. A cash bar of beer and wine will also be offered.
Doors open at 5:30 p.m., with bingo beginning at 6 p.m. All funds raised will benefit the Lady Cards Basketball program.
For more information or to purchase a ticket, visit Facebook and search Lady Cards Basketball Boosters Designer Purse Bingo. Tickets will also be available to purchase at Canfield High School Girls Basketball home games.
More like this from vindy.com