Austintown Schools invite anti-bullying speakers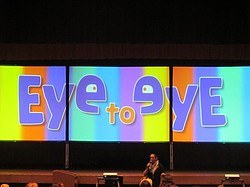 Photo
Neighbors | Zack Shively.Olivia Lee and Candace Hutchson of Camfel Productions came to the auditorium at Fitch High School to give an anti-bullying presentation called "Eye to Eye." The talk focused on talking with people and having empathy for others.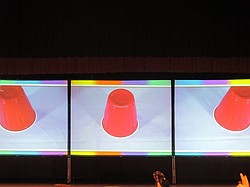 Photo
Neighbors | Zack Shively.Near the end of the talk, Camfel Productions played a game with the students. They had a ball under one cup on the screen and mixed the cups around. The cups moved very quickly and Olivia Lee, the presenter, had the students ask Candace Hutchson, the other presenter, for the answer. Their point was that the best way to know something is to ask.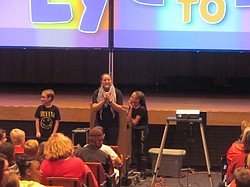 Photo
Neighbors | Zack Shively.Olivia Lee of Camfel Productions asked two volunteers about some of their favorite things. This showed the students similar interests and their differences. They celebrated both the similarites and differences.
by ZACK SHIVELY
Los Angeles-based group Camfel Productions visited Austintown Fitch High School on Oct. 30 to speak with students from the intermediate and middle schools.
Olivia Lee and Candace Hutchson set up their anti-bullying presentation in the auditorium of the high school. The schools walked to the high school at separate times for the presentation.
"I think in today's society, kids put societal pressures on themselves ... and get too lost in judging people," said Austintown Intermediate School principal Mike Sauner. Both Sauner and middle school principal Ben Baldner attended the event with their schools.
Their presentation, titled "Eye to Eye," spoke about treating everyone well and celebrating differences instead of allowing them to cause a source of tension. For example, Lee brought two students to the front and talked with them about some of their favorite things. They had both similarities and differences, which was not a problem.
The presentation came with videos of examples and stories of both bullying and empathetic treatment. The concluding video said that when students look at each other "eye to eye," or from an understanding perspective, it allows "you to be yourself, make real friends and make others feel better."
The video portions of the presentation included popular songs, clips from movies and interviews with other children of the same age range. Lee said these aides help the message resonate better with the students and makes it more relevant to them.
Camfel Productions came to the school last year as well. Sauner said that staff and students told him they enjoyed it, so he wanted to make sure to include them back again.
Camfel has a different presentation every year and creates talks for four different levels: kindergarten to second grade, elementary school level, middle school level and high school level.
More like this from vindy.com