Special-needs students enjoy annual Winterfest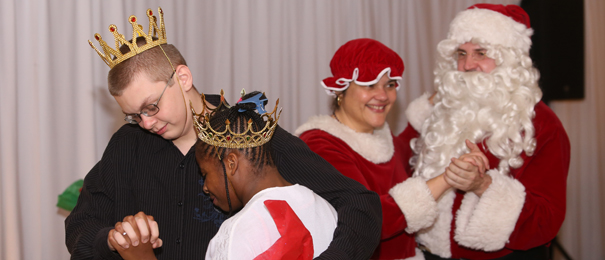 ---
By WILLIAM K. ALCORN
alcorn@vindy.com
GIRARD
Winterfest Dance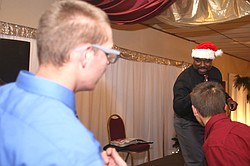 Gallery
Their parents were not there. In fact, parents were not allowed to be there, so the high school-age kids could relax and enjoy.
And, with D.J. and Youngstown Mayor-elect Jamael Tito Brown supplying the music and good-natured encouragement, get down they did.
There was twisting and turning and jumping up-and-down and shouting and lots of whooing after a great meal at the 17th annual Special Needs "Winterfest" dance Wednesday at Mahoning Country Club. The event is open to all high school-aged students with multiple, orthopedic and/or developmental disabilities.
Attending the pre-Christmas celebration, complete with Santa Claus, were about 300 kids from 26 schools in Columbiana, Mahoning and Trumbull counties.
Next to the dancing, the single most exciting part of the evening was an appearance by Santa and Mrs. Clause, who led a chain dance of literally hundreds around the banquet room.
Crowned Snow Princess and Prince were Andrea West, a student at East High School in Youngstown, and Nathan Smith of the Trumbull County Educational Service Center's McDonald Unit.
"A lot of the kids don't go to their school dances. Here, no one makes fun of or bullies them. Here, that doesn't happen," said Jeanne Constantino, coordinator of the event and an intervention specialist at East High School.
Corporate donations enables Constantino to keep the evening free to the participants and those who volunteer to help.
Attire is semi-formal.
"Some of these kids never have a chance to shine. This is about Christmas and Santa, dancing and having fun. The kids love to dance, and they get a nice dinner," said a Campbell High School teacher who accompanied some of her students, including junior Zach Banks, to the dance.
"I like the D.J. and dancing and getting dressed up," Banks said.
"Seeing them have fun is what I love," said Constantino, who has organized the dance all of its 17 years.
Constantino praised Brown for being the D.J. for all of those years.
"He won't miss this," she said.
When asked why he works the "Winterfest" dance year after year, Brown, who has been a D.J. for some 20 years, said it is "one of my special gigs ... something I love to do. I think I have more fun than the kids," he said.
More like this from vindy.com