Youngstown Peace Race Association donates $11,000 at annual dinner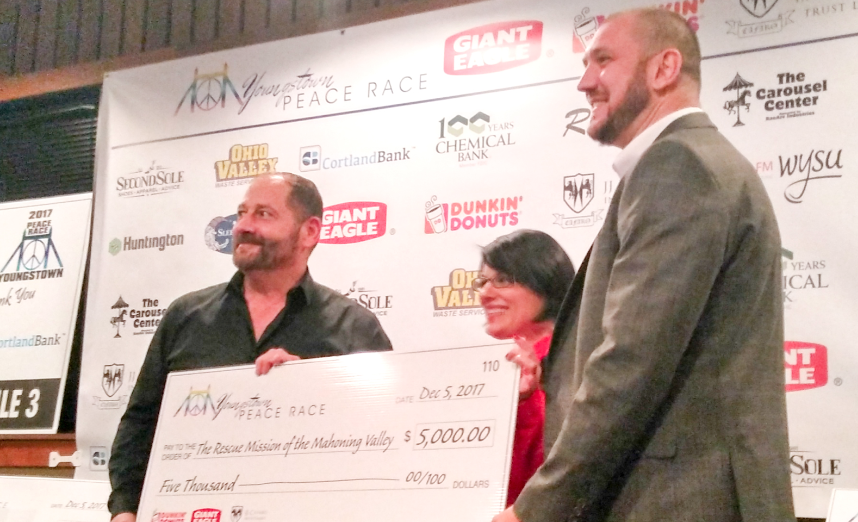 ---
YPRA donates $11,000 at annual dinner
By Dan Hiner
austintown
The Youngstown Peace Race Association's 10th annual Appreciation Dinner took place at Rachel's Restaurant in Austintown on Wednesday night.
The association donated $11,000 to local charities including the The Rescue Mission, Akron Children's Hospital of the Mahoning Valley, the St. Vincent DePaul Society, Beatitude House, Youngstown YMCA, YWCA, Fairhaven Special Olympics and Walnut Grove.
Peace Race Association President Al George said the goal of the Peace Race is to support the community, local charities and the runners.
"We're all about the community, we're all about helping the charities in the community and supporting the local runners as well as regional, national and international runners," George said.
Les Horvath, the treasurer of the Youngstown Peace Race Association, said the organization keeps enough money to organize the upcoming year's race and the rest is dispersed to local charities every year.
The Rescue Mission received $5,000 to help fund the "Move Our Mission Capital" campaign. The campaign focuses on the construction of a new building. John Muckridge III, president of the Rescue Mission of the Mahoning Valley, said the current building is beyond repair, and the donation will help with the costs. Muckridge said the facility houses 117 people, but there are just as many people living on the street.
"The need's there no matter what part of the year it is, but we definitely see an increased need during the cold season," Muckridge said. "We're in a building that was built in 1930. It's falling apart. Pipes busted in the walls — can't fix the pipes because once you break into the walls you have asbestos issues. Once asbestos starts floating around you gotta close the facility."
He said the current plan requires $4.25 million to build a 30,000-square foot facility.
Dunkin Donuts is one of the largest sponsors of the Peace Race. Dunkin Donuts Network Trainer Tiffany Gallo not only helps support the race, but participated in 2016.
"They all do a fantastic job with it," Gallo said. "Being a participant and being a vendor in it, that supports it on both aspects of it, it's wonderful."
More like this from vindy.com