A teenager had his wish granted by Make-A-Wish on Wednesday.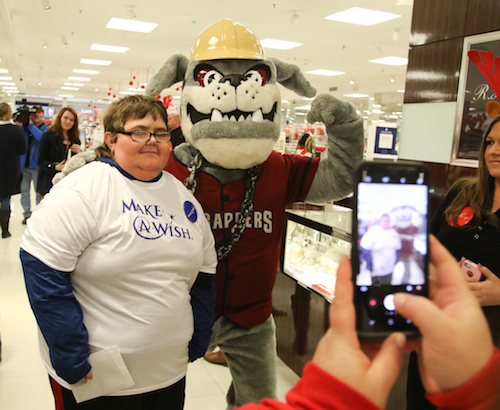 ---
By SAMANTHA PHILLIPS
NILES
Nathan Taylor, 17, of New Waterford, wished for something that would help him live a healthy lifestyle despite having an incurable disease.
His face lit up Wednesday as he was wheeled into the Macy's at Eastwood Mall, where more than 50 people cheered for Nathan before he was presented with several gifts to make his wish come true.
"It felt amazing. I had butterflies in my stomach," Nathan said.
The Make-A-Wish Foundation teamed up with Macy's and the YMCA of Youngstown to plan a ceremony where Nathan and his family were gifted a two-year membership to the YMCA in Youngstown and Boardman, which includes swimming lessons.
Nathan and his family also received a weeklong Camp Fitch outing and several gift cards, including $500 for Macy's, $500 for Finish Line and $100 for Eastwood Mall.
"I'm very grateful. We are excited to start this journey," said his mother, Julie Taylor. "He's excited to get into the water."
Nathan was diagnosed with Blau syndrome when he was about 5. Blau syndrome is an inflammatory disease that affects a person's joints, eyes and skin. It causes Nathan, who is legally blind, to have a hard time walking. He also tires easily and becomes sick often.
The disease isn't curable, but exercise can help alleviate its effects. Julie Taylor said swimming especially helps his joints, and they plan on making exercise a family routine.
Kristen Durkin, the Make-A-Wish program manager, said after her organization got in touch with the YMCA, they decided to have the ceremony at Macy's because the department store donates one dollar to Make-A-Wish for every letter a child writes to Santa as part of its Believe Campaign.
Thomas Gacse, chief executive officer of the YMCA, said the gifts marked the beginning of a journey for Nathan. He said it was humbling his wish involved the YMCA.
"We will do whatever we can to keep Nathan happy and healthy," Gacse said.
The Youngstown State University Ads Club was invited to the ceremony because it started raising money for Make-A-Wish two years ago with a spring benefit concert. A group of members were there to cheer and support Nathan.
YSU student Kellie Daley, club president, said it felt good to see a wish granted for someone who lives locally through an organization to which they contribute.
Nathan was brought to the mall by a limo. The wish was granted through Wishes Across America, a partnership between Macy's and Make-A-Wish.
More like this from vindy.com
December 7, 2017 12:05 a.m.