East students harmonize holiday performance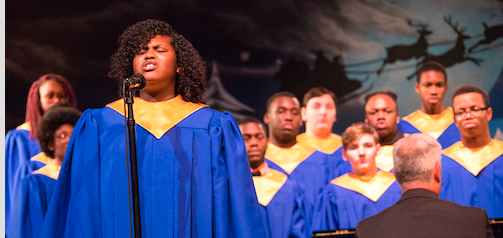 ---
YOUNGSTOWN
East High School students celebrated "A Season of Joy" with dance, drama, vocal and instrumental music pieces during the Visual and Performing Arts winter performance.
Wednesday evening's pieces included holiday favorites such as "Joy to the World," "Feliz Navidad," "Ode to Joy" and "This Christmas."
An exhibition of VPA visual artwork on display outside the auditorium welcomed attendees to the show.
Teacher Britany Chakos said she was proud to see the students perform.
"Some of the students just started to come together this year, and it's amazing to see them pull this off," she said. "We have some really great singers and a lot of talent here."
Principal Sonya Gordon echoed Chakos' sentiment. "I was just excited to see the kids display their talents," she said.
Lori Davis, an East Palestine bus driver, said the melodic sounds drew her to East's auditorium while she waited for the East Palestine-East High basketball game in the gym to conclude.
"It really sounds like a professional show," Davis said.
That quality is something newly elected school board member Tina Cvetkovich appreciates with each Youngstown VPA performance. "It just constantly improves [with] every performance," she said. "I like to see that growth in performance."
East's Ninth-Grade Academy Principal Roshay Huff agreed.
"I just can't wait to see what it is the next time, too," she said. "It'll be even bigger and even better."
There will be another VPA winter performance at Chaney High beginning at 6 p.m. Dec. 21, in the Chaney High auditorium. Doors open at 5:30 p.m. Admission is free.
The only similarities between the two performances will be the set design and a handful of performance pieces presented by the students who attend the 11th- and 12th-grade VPA tracks at Choffin Career and Technical Center, which includes performance by the VPA Vocal Crew.
For information regarding the VPA program, contact Tracy Schuler Vivo, VPA coordinator, at 330-744-8830 or at Tracy.Schuler-Vivo@youngstown.k12.oh.us.
More like this from vindy.com