Southern Airways mulls potential service at Vienna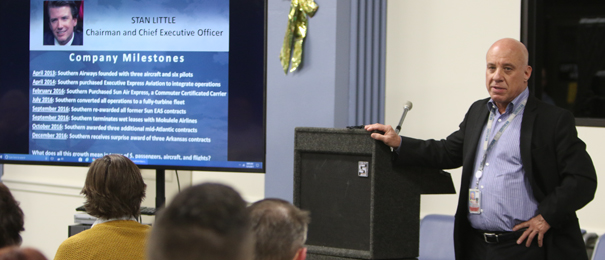 ---
By KALEA HALL
khall@vindy.com
VIENNA
Southern Airways Express CCO speaks about possible air service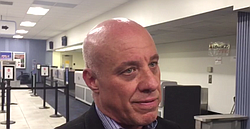 Video
Southern Airways Express Chief Commercial Officer Mark Cestari discusses the possibility of air service at Youngstown-Warren Regional Airport.
Southern Airways Express wasn't in town to announce a new service starting at Youngstown-Warren Regional Airport, but rather to discuss the possibility.
"We will continue conversations," said Mark Cestari, Southern Airways chief commercial officer. "This is a good step today to keep the process going."
Cestari came to the airport Tuesday for a public forum about bringing air service here. Given the coming end of Allegiant Air flights in January, airport officials are in talks with Southern Airways and other airlines to bring new commercial service to the airport in Vienna Township.
The Mississippi-based airline founded in 2013 offers regional air service to more than 20 cities in the Gulf and Mid-Atlantic regions, according to the airline's website. The company uses 22 nine-passenger Cessna Caravans.
"It's really one of the fastest-growing small regional airlines in the country," Cestari said.
The airline discussed the possibility of service between Youngstown and Coleman Young Airport in Detroit and Baltimore-Washington International Airport.
"Ideally, you want service with a network carrier, but that's hard to get," said Bob Mann, industry analyst.
The airport sent out a survey about the suggested routes and found the Washington, D.C., service wasn't that popular of an option.
"The demand was a little bit low," Cestari said.
The airline wants to gauge who would use the airline, how often and how much people are willing to pay for it.
"Our model with a nine-seat aircraft is different," Cestari said. "It's going to be more expensive."
A one-way ticket to Detroit could cost $100 to $200, and the cost of a ticket to D.C. could be $120 to $220, Cestari said.
"These are business commuter type fares," Cestari said. "Our economics are very different."
Twelve of the 21 routes Southern Airways flies are under the Essential Air Service program, which provides a subsidy to the airline to fly from smaller airports to hub airports where travelers connect to a national network. Tickets are cheaper on EAS routes. Airports closer than 70 miles to a commercial service hub – such as Youngstown-Warren with proximity to Pittsburgh – do not qualify for the EAS program.
Mann said the program has been going out of business for 40 years.
"It's hideously expensive to the taxpayer," Mann said. "Anybody in Congress who doesn't have it doesn't want it, and the people who do have it love it."
Altoona-Blair County Airport in Martinsburg, Pa., is one of the airports where Southern has two EAS routes to Baltimore/Washington and Pittsburgh.
"Service has been well-received," said Tracy Plessinger, manager of the Altoona airport.
The airport previously had service from Sun Air Express, which Southern purchased in February 2016. The airport recommended the airline to receive the EAS contract from the U.S. Department of Transportation.
"It's a much more interactive experience," Plessinger said of the smaller aircraft. "It's a more personal experience than flying on a bigger jet."
The routes suggested for Youngstown-Warren are more for the business traveler, but the airline would hope to tap into the customer base Allegiant formed here with its leisure destinations.
"Any additional activity here at the airport would be great," said Dan Dickten, director of aviation at Youngstown-Warren.
The possibility of offering a Columbus destination was brought up at the forum, and Cestari said it was great suggestion.
"It's definitely something we are going to look at," he said.
As far as connectivity with other airlines, Southern Airways Express is working on getting interline agreements with legacy carriers. Interlining is a commercial agreement between airlines to offer one fare for the traveler and divide the revenue of that fare. The agreement also covers baggage transfers.
"Thirty to 40 percent of our customers connect with low-cost carriers and they don't have interline agreements," Cestari said.
Last year, the airport had daily service back at the airport after 14 years without it – only to see it end after a month since the airline did not have a working interline agreement with major airlines. Great Lakes Jet Express, operated by Aerodynamics Inc., offered daily flights to Chicago O'Hare International Airport. The Western Reserve Port Authority sued ADI for breach of contract. The authority seeks to have its $361,714 revenue guarantee returned.
ADI filed a countersuit denying it misled the airport and demanding $294,221, the amount ADI billed the port authority Aug. 30 for the revenue guarantee but never received. Both parties are working on a settlement.
More like this from vindy.com
December 6, 2017 12:01 a.m.