Local temples to host joint Hanukkah celebration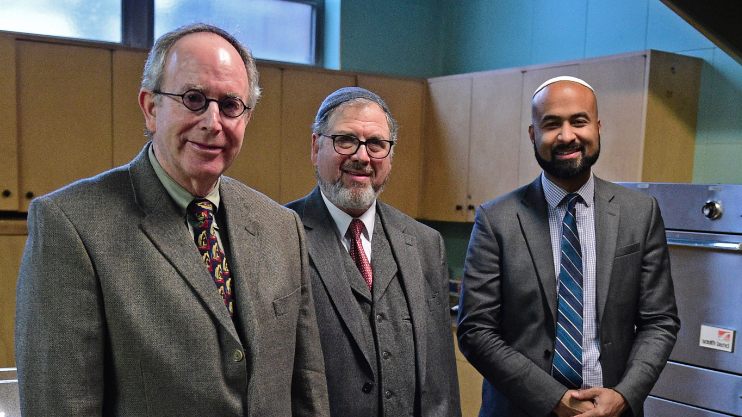 ---
YOUNGSTOWN
Hanukkah celebrates the victory of Jewish warriors over their oppressors, and the subsequent miracle of the menorah candles that burned for eight nights, despite there being only enough oil for one night.
It's a joyful holiday that celebrates the triumph of religious freedom over persecution and light over darkness.
Local synagogues invite the public to celebrate the holiday together in a joint, communitywide event at Rodef Sholom on Sunday. The synagogue is located at 1119 Elm St., on the city's North Side. RSVP no later than Friday by calling 330-744-5001.
"It's good for the community to all celebrate together, like one extended family," said Rabbi Joseph Schonberger of Temple El Emeth in Liberty.
"Particularly for this holiday, I think it's important to show those ties, because the holiday is about a small ragtag group of Jews fighting against religious oppression," added Rabbi Dario Hunter of Ohev Tzedek in Boardman.
The event marks the first time the temples have celebrated Hanukkah together, but not the first time they've joined together for a holiday.
Rabbi Frank Muller of Rodef Sholom explained that with a shrinking population of congregants, the temples work more closely together than ever.
To get ready for Sunday's celebration, the rabbis met this week to prepare Rodef Sholom's kitchen for kosher cooking.
The Hanukkah event will feature a practice menorah lighting (Hanukkah does not actually begin until sundown Tuesday), musical entertainment, a children's program, a world series of Dreidel (a traditional Hanukkah game), and traditional Hanukkah dishes such as latkes and jelly doughnuts.
"Anything fried in oil is a traditional Hanukkah dish," Rabbi Muller explained.
Oil plays a significant role in the holiday.
Hanukkah celebrates the successful rebellion by the Maccabees against the Hellenistic Greek king Antiochus IV Epiphanes of the Seleucid Empire, who outlawed Jewish religious practices. The eight-day holiday commemorates the rededication of the second temple in Jerusalem, where, according to legend, the menorah candles burned for eight nights despite the lack of oil.
Of the meaning of the holiday, Rabbi Muller said, "It's the first recorded struggle for religious freedom in history. The significance is that every religious minority has the right to practice their own heritage and traditions in a free society, without fear of persecution, oppression, or intimidation."
Religious leaders said the holiday is about hope, joy and fun, too.
"Jews all over the world love to get together to celebrate Hanukkah, both at home and together with friends and family," Rabbi Schonberger added.
Rabbi Muller was reminded of an old joke he's heard: "Every Jewish holiday is based on three things: They tried to kill us. We won. Let's eat."
More like this from vindy.com