Vietnam War vets recognized in student-organized dinner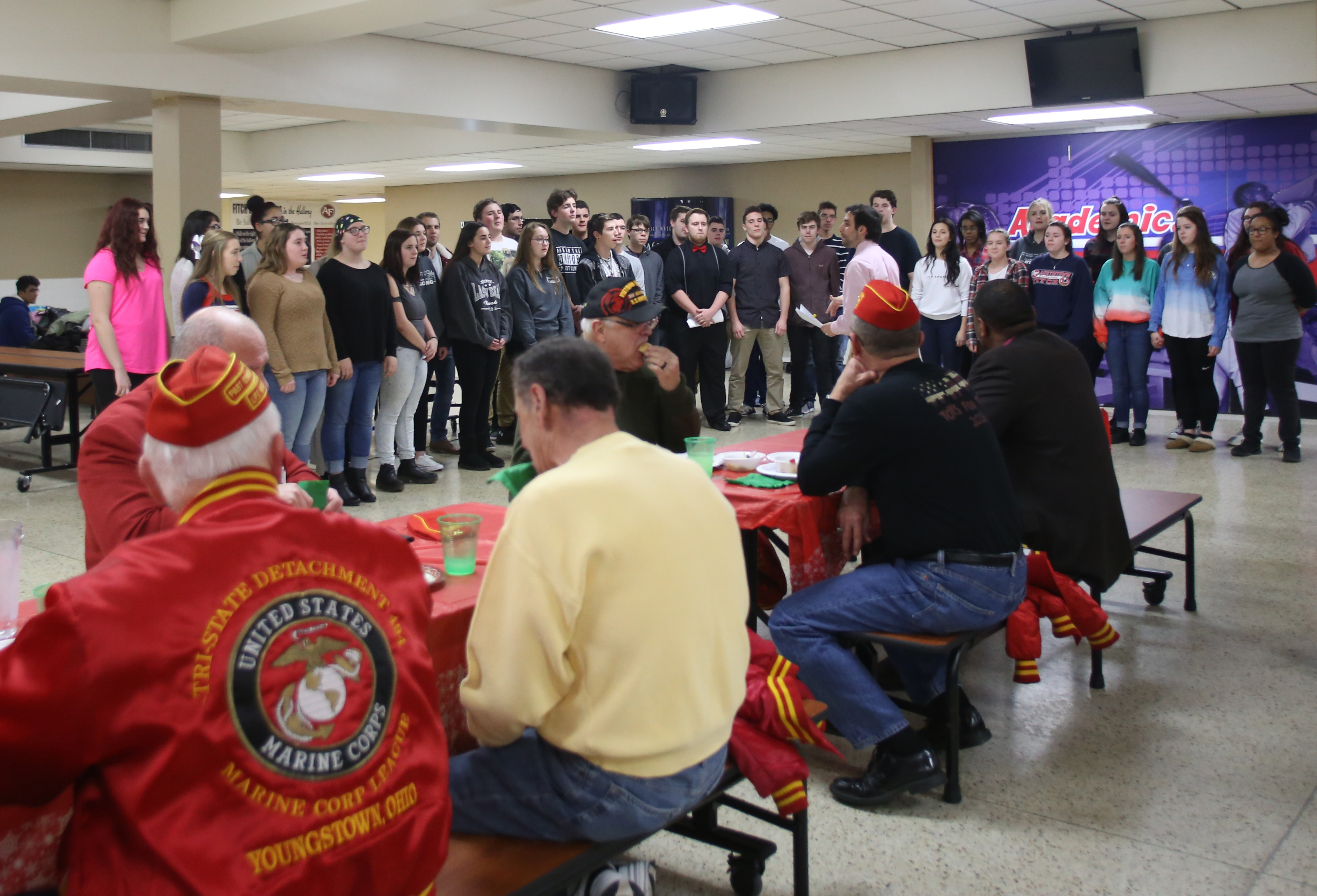 ---
By Billy Ludt
AUSTINTOWN
Soldiers returning stateside from tours during the Vietnam War often were greeted with hostility.
"When we came back, we were dirt under the rug," said former Marine Roger Humberson.
Humberson served in the Marines from 1965 to 1969. His time in the service began in Guantanamo Bay, Cuba, and ended in Vietnam.
All three of his children graduated from Austintown schools. Humberson shed tears during a dinner that recognized veterans from his era.
"It's taken 40 to 50 years to be recognized," he said. "It's been a long time coming, but it's very much appreciated."
About 50 area veterans who served during the Vietnam War were served a spaghetti dinner Tuesday evening organized by seven Austintown Fitch High School seniors.
In Fitch's entryway is a memorial dedicated to veterans who died in Vietnam from the Class of 1962. Special-education department lead teacher Kristin O'Neill's father, Marine Sgt. James Prommersberger, was one of those veterans.
Prommersberger was killed April 7, 1967, while serving in Vietnam.
"He was a hero when he died," O'Neill said.
The Class of '62 memorial is one of three veterans memorials on the Austintown schools campus. The school recently had its annual Veterans Day assembly and has periodic events dedicated to veterans.
Some of them are organized by the students themselves.
O'Neill said the seven students behind the dinner came to her with the idea. After that, she took a back seat and let the students handle the organizing, intervening occasionally with suggestions.
"We thought, 'Instead of the school administration, why not have a group of students organize something?'" senior Michael Ferree said.
He and classmates Nate Armstrong, Jakari Lumsden, Breylon Douglas, Dylan Correia, Kaitlyn Carson and Caitlin Correia put the event together for a senior project to give back to the community.
"It's just amazing," O'Neill said. "They're so respectful."
In addition to food, the Fitch Concert Choir performed several patriotic songs during the dinner. While singing Lee Greenwood's "God Bless the U.S.A.," students in the choir walked to the veterans and shook their hands.
Every veteran who attended received lapel pins, bumper stickers declaring their service and certificates commemorating the 50th anniversary of the Vietnam War. Several baskets were raffled off as well.
"To me, this is a bit too little, a bit too late," O'Neill said. "For what they came home to, this is the least we can do. We can't do enough."
More like this from vindy.com