The end of an era for Austintown teen's toy drive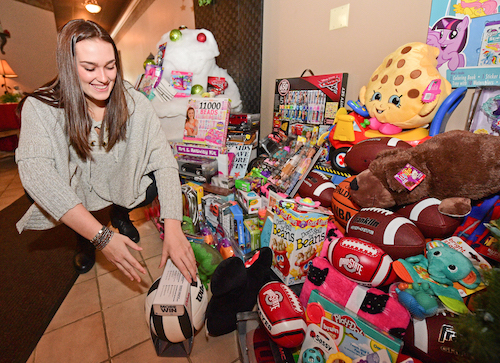 ---
HOWLAND
For the past decade, Lexi Cintron, 17, of Austintown, has spent December collecting toys for poor children.
When she was a child, Cintron participated in the Salvation Army's "Angel Tree" Christmas program – where individuals provide gifts for poor children based on their age and gender – and decided at age 6 that she wanted to organize a toy drive of her own.
Cintron brought the idea for a toy drive to her grandmother, Sara Morris, and asked if she would host the event at her Howland spa, Spalon of Sarah Morris.
Morris gave her an emphatic yes, beginning an annual tradition for Cintron, her family and friends that would result in more than 5,000 toys collected for poor children in the region.
This year's drive kicked off Saturday at Spalon of Sarah Morris at 5000 E. Market Street, Suite 21 in Howland, and will run until Dec. 15.
As always, Cintron will have her annual fundraiser. But this year is also the toy drive's final year, as Cintron is ready to graduate from Austintown Fitch High School and begin her adulthood away at college.
"It was a hard decision to make," she said. "It's the end of a chapter in my life. The novelty of this always was that I was a little girl doing the toy drive, and now that I'm older and leaving the area, I think it's a good time to end the drive."
Though this is Cintron's final drive, she is confident that the same spirit of giving that pushed her to begin it will continue with her to college, where she anticipates getting involved with new charitable organizations.
For Cintron, one of the most enjoyable parts of running the drive – in addition to helping those in need – has been seeing an interest in charity work and a desire to give take root in her friends and family.
"I don't think I inspired anyone to want to give or anything like that, but I do think the drive has been a way for people who already wanted to give to get involved," she said. "Now I've got friends who are involved in their Interact clubs at school and are looking for ways to get involved and help others."
This year, Cintron will be collecting toys for Someplace Safe, a shelter for women and children in Warren. For those interested in donating, toys can be dropped off at Spalon of Sarah Morris until Dec. 15. More information on the drive can be found on the event's Facebook page, titled "Lexi's Toy Drive."
More like this from vindy.com
December 3, 2017 12:08 a.m.