Christmas tree farms ready for a busy season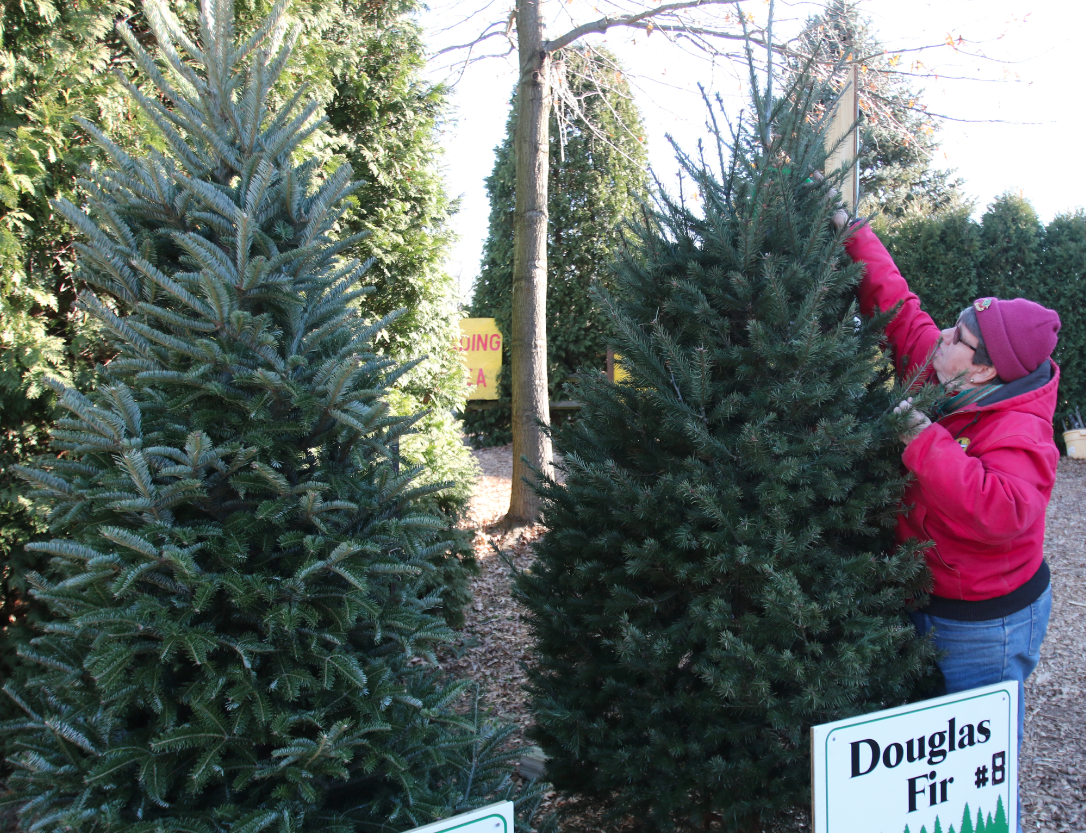 ---
By Kalea Hall
YOUNGSTOWN
It's beginning to look a lot like Christmas at local Christmas tree farms.
People came out in droves last weekend, and they are expected to do so again this weekend to pick out the perfect tree.
Whether it's tradition or an environmental decision or something else, farmers say more people are coming out to pick, cut and buy their own fresh tree from a local farm.
"We have people who have been coming for 25 to 30 years now," said Mary Jan Perdulla of Pioneer Trails Tree Farm of Poland. "The second generation is picking up on it."
Millennials are all about "the experience," Perdulla explained. They like the feeling of getting a saw and hopping on a horse-drawn or tractor-drawn wagon that will drop them off to cut down their own Christmas tree.
The goal here at Pioneer Trails Tree Farm on Center Road in Poland, Stepuk Tree Farm on Washingtonville Road in Canfield and Fodor Tree Farm on East Western Reserve Road in Poland is to provide a unique and fun family experience.
"I think people are into taking people out to the farms," said Mark Stepuk of Stepuk Tree Farm. "Just get the family and go do something where you are out in the country and having a nice experience."
Each tree farm has its own history, but all of them are dedicated to their trees.
"It was a part of my family heritage because I was raised helping my dad out on his family tree farm," Perdulla said. "I am so fortunate that my son Charles is wanting to help."
Pioneer Trails starting plant trees in 1983. It takes trees about eight years to mature. The family business is run by Mary Jan and her son Charles with help from her daughter, Amy, and son Matthew. Mary Jan started the farm with her husband, Frank, who is now retired.
The farm has 40 acres of trees with eight varieties available for the picking.
"Douglas Fir this year is the best seller," she said. "It has nice stiff branches and a citrusy smell when you get it to the house."
Pioneer spruces up its offerings with horse-drawn wagons on the weekends, a barn with several handmade ornaments for sale along with other holiday decor.
Stepuk Tree Farm began when Paul Stepuk, Mark's dad, planted his first trees in 1955. Today, the farm has 40 acres of trees and a small gift shop. It sells 10 varieties of trees with Canaan Fir being the best seller for Christmas. The farm is maintained by Mark and his brothers Greg and Paul Jr.
Mark came back in October from a nine-month tour in Afghanistan as a major in the Army National Guard and got right back into the Christmas tree business.
"It's just tradition," he said of the farm. "I've grown up in it."
Fodor Tree Farm was started in the 1960s by Dave Fodor. His son Jon and Jon's wife, Tara, now run the business.
"I have been doing it my whole life," Jon said. "Our business is growing just because we are growing. We are expanding our offerings. There's no doubt about it that we are seeing more and more people. With that, people are saying, 'This is my first live tree.'"
The smaller farm has three to four acres of trees and four varieties they offer for sale. Fodor typically sells Christmas wreaths and offers wreath-making classes but those have already sold out.
Here, the Fraser and Concolor Fir trees are tied for top-seller.
"People like the citrus smell of the Concolor," Fodor said. "[With] Fraser, people like it because it's soft, short-needled and has amazing needle retention."
All three farms' sales have remained solid in recent years.
"It's been steady," Stepuk said. "They've grown I'd say steadily over the last five years."
Weather is a major factor in getting customers out to the farms. Marketing is also an important tool local tree farms use to get people turned toward buying fresh. The Christmas Tree Promotion Board has a "It's Christmas. Keep it Real." campaign to support buying fresh, local trees. Doing so, the campaign says, creates lasting memories, supports local farmers and is environmentally friendly.
"They are really doing a great job of promoting real trees," Perdulla said. "What they are putting [out] is applicable to all the Christmas trees farms in the U.S. As a small business that helps us to promote our products."
More like this from vindy.com