Rotary teams up with Falcon Outreach to help needy Austintown families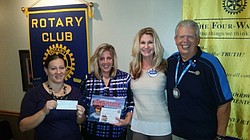 Photo
Neighbors | Submitted .Austintown Rotary welcomed speakers Lynn Mickey and Jennifer Cicarelli, pictured with Christine Vlosich and Rotary President Bruce Laraway.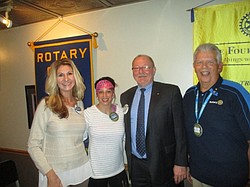 Photo
Neighbors | Submitted .Pictured are Austintown Rotary members, Christine Vlosich, sponsor, new member Deborah Caggiano, Installation Officer Chuck Baker and President Bruce Laraway..
Members of the Austintown Rotary welcomed guests Lynn Mickey and Jennifer Cicarelli, representing the PTA organizations of the Austintown school district, to discuss the Falcon Outreach program.
Falcon Outreach focuses on helping needy district families during the holiday season by utilizing creative and traditional fundraising methods to raise monies that are in turn donated to those families via food and gift vouchers.
Last year, the program was able to distribute more than $10,000 worth of Aldi's gift certificates to more than 100 Austintown families. This year, they are considering expanding to other vendors, so that families might utilize the funds to also purchase gifts. The Austintown Rotary presented a check for $1,500 to the cause.
Rotarians also inducted a new member at this meeting. Deborah Caggiano, owner of The Class Room, is the newest member, noticing the many worthy projects and fellowship that comes from membership in the world wide organization. Caggiano is sponsored by Christine Vlasich, and looks forward to being involved in her home community.
More like this from vindy.com
December 1, 2017 midnight