Rich Center aims to meet needs with $6M campaign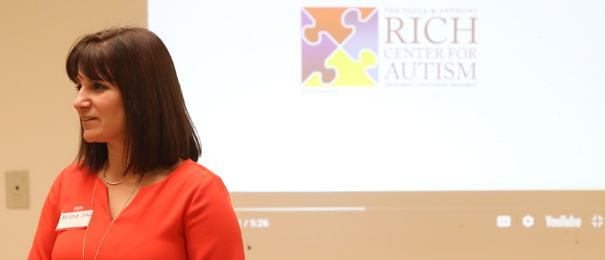 ---
By WILLIAM K. ALCORN
alcorn@vindy.com
YOUNGSTOWN
The Paula & Anthony Rich Center for Autism launched a $6 million Building for Tomorrow Capital Campaign Thursday, aimed at expanding services and facilities to meet the needs of the growing number of children with autism.
When the Rich Center opened in 1995, 1 in 10,000 children was diagnosed with autism. Today, 1 in 68 children overall and 1 in 42 boys are diagnosed, said Phyllis Ricchiuti, cofounder of the facility.
The Rich Center is located on one floor of Youngstown State University's Fedor Hall.
The expansion will enlarge the Rich Center to occupy all of the three-story Fedor Hall, and, among other things, include installation of an American Disability Act-compliant elevator, new flooring, autism-friendly lighting fixtures, improvements to the roof and a new sprinkler system.
The campaign goal is to raise $6 million by 2020. So far, YSU has pledged $1 million to the campaign and an anonymous donor also pledged $1 million, officials said.
"We're very excited. There are more than enough autistic kids to justify the expansion," Ricchiuti said.
Another advantage of the expansion is the ability to do more research on autism through the university," said Geri Kosar, also a cofounder of the Rich Center. "We have kept data on what has worked since the beginning," she said.
The Rich Center, with a staff of about 60, all of whom have at least bachelor degrees, serves 70 clients aged 21⁄2 to 19.
Parents at Thursday's campaign kick off, Kelly Willis of Austintown and Jenny Ellis of Boardman, both of whom have had sons in the Rich Center for many years, Hunter, 16, and Carson, 17, respectively, described the program as "wonderful."
Willis said her son has improved more than she would have believed possible from when he started 10 years ago. "He had a 30-word vocabulary. Now, we speak in sentences and have conversations," she said.
The Rich Center provides education free-of-cost to area families who can spend as much as $60,000 raising and caring for a child with autism. "We rely heavily on donations," said Melanie Carfolo, executive director.
Anyone who wants to give to the center may view donation options by visiting www.donate.richcenter.org.
More like this from vindy.com
December 1, 2017 12:01 a.m.