Poland Middle School mixes it up at lunch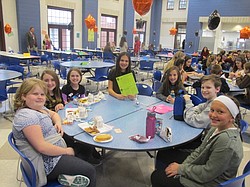 Photo
Neighbors | Zack Shively.Poland Middle School had their students draw a number and sit at a table corresponding to that number. This randomly assigned students to sit by other students they might not know well. Each table had an older students sit at the table and ask questions to formulate conversation bewteen all the students.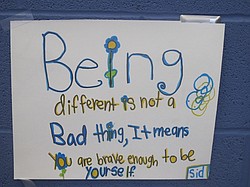 Photo
Neighbors | Zack Shively.Signs, such as the one pictured, hung in the hallway of Poland Middle School leading to the cafeteria on "Mix It Up Day" on Oct. 31. The school had the "Mix It Up Day" in October because the month is National Bullying Prevention Month.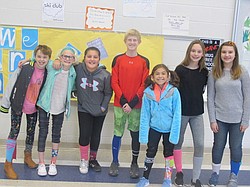 Photo
Neighbors | Zack Shively.Students at Poland Middle School wore mismatched socks to school on Oct. 31 to celebrate differences. The "Mix It Up Day" is a national program from No One Eats Alone.
by ZACK SHIVELY
Poland Middle School participated in the "Mix It Up at Lunch" event on Oct. 31 asking students to talk to new people and wear mismatched socks.
The No One Eats Alone campaign created the event on a national level. School Mary Jo Rowan organized the event for the school.
Rowan said the event celebrates differences and is "a great way for kids to meet someone new."
The students arrived to school wearing mismatched socks. Many of the students wore high socks with electric colors with designs on them. Some rolled up their pant legs to show off their bright socks.
During lunch, the children randomly drew a number and each number corresponded with a different table. The random seating in the lunchroom promoted conversation outside of friend groups.
Eighth-grade students sat at the tables with the younger children to help spur the conversations forward. No One Eats Alone provided the school with question cards that the eighth-graders used. The card came with different types of "would you rather" and "what if" questions to move conversations while also entertaining the students.
Rowan has run the event at the school for three years. The event runs during October because October is National Bullying Prevention Month. She offered a survey last year asking students what they thought about the event, and she received largely positive responses.
More like this from vindy.com