Men go clean shaven after a month of fuzzy faces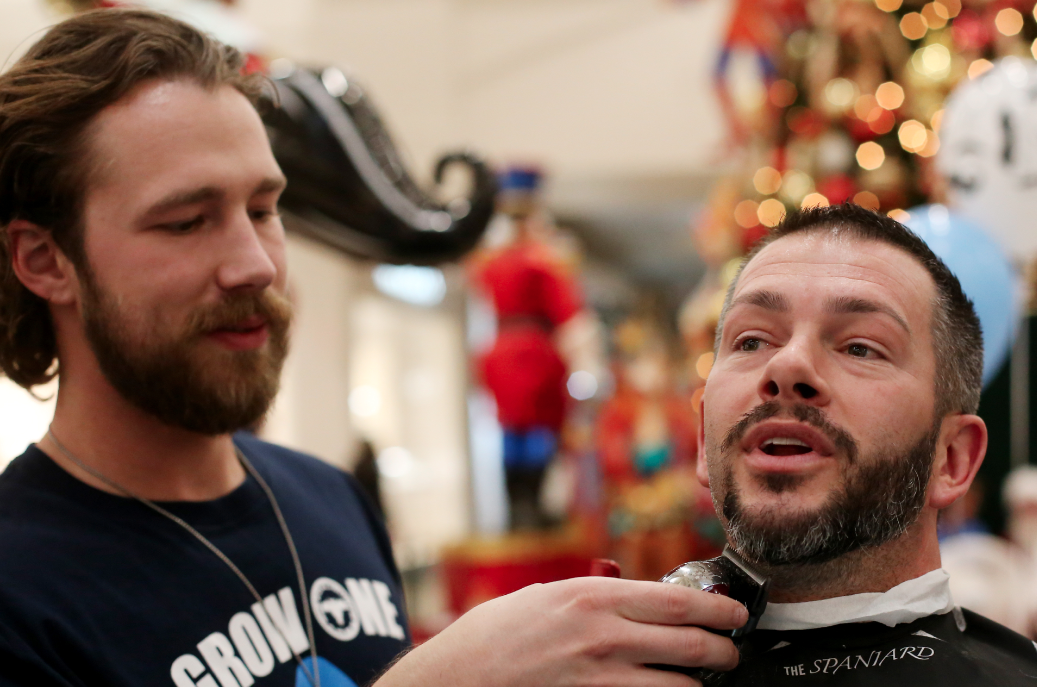 ---
By Billy Ludt
NILES
Many male faces will enter winter clean-shaven after a month of growing untamed moustaches, beards, goatees and sideburns for the sake of starting a conversation.
Man Up Mahoning Valley, a group advocating for prostate cancer awareness and men's health, helped finish off Movember with its fifth annual shave-off at Eastwood Mall Thursday afternoon.
Beginning at 3:30 p.m., employees from Excalibur Barber Grooming Lounge and Y C Barbershop gave free facial shaves and trims to men who spent the month letting their whiskers grow to spread the word about prostate cancer testing.
"There's no real reason for a man to die of prostate cancer," said Jonathan Fauvie, manager of communication for Mercy Health Group. One out of six men will be diagnosed with prostate cancer in their lifetime.
Fauvie said he implores men to take both available prostate cancer exams: the prostate-specific antigen (PSA) test – a blood test – and the digital rectal exam.
Man Up is a Mercy Health program started seven years ago. Fauvie said the group mobilized a few hundred men who usually wouldn't grow facial hair to do so and talk to people about prostate cancer examinations options.
The group raised about $5,000 this month with the help of area individuals and organizations.
Officers at Austintown Police Department and faculty from Austintown schools together raised $862 for Movember.
"The police uniform requires being clean-shaven," officer Dan Burich said.
Burich pitched the idea of participating in Movember to Chief Bob Gavalier, who in his 30-plus years in law enforcement hasn't broken that dress code. But, he said, the chief made an exception for officers to have the option to grow facial hair for the cause.
"I'm not used to having the full beard on my face," Burich said, "and there's a bit more grey in here than I expected."
Burich went under the trimmer and razor, and returned to proper police uniform.
All of the money raised for Man Up will go toward providing prostate exams to men who are uninsured or whose insurance does not cover it.
Youngstown Mayor-elect Jamael Tito Brown said he doesn't usually let his facial hair go unkempt, but made an exception for Movember.
"It's a conversation piece," Brown said.
The uncharacteristic facial hair, he said, gave him the opportunity to talk to people about men's health and the importance of good health in general.
"Have the exam done," said Jonathan Hitesman of Austintown. "Find out the results and go from there. Even if you come out with a negative result, keep getting checked."
Hitesman was diagnosed with prostate cancer after three years not having a PSA test. When he did, his PSA level came back at 4.9. The normal level is 4.
Now, Hitesman has been cancer-free for about two years. "Fingers crossed," he said.
Hitesman is a member of Man Up's prostate cancer support group, and said talking to other men about prostate cancer is necessary to prevent it.
"It's hard to get the word out and affect people," he said.
More like this from vindy.com