International Peace Light comes to the area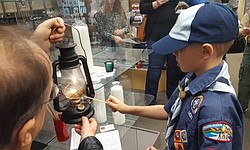 Photo
Neighbors | Submitted.The International Peace Light arrived at JFK International Airport in New York City on Nov. 25. The Boy Scouts and Girls Scouts will soon be distributing the light throughout the community in this area.
With the arrival of the International Peace Light on Nov. 25 at the JFK International Airport in New York City, Cub Scouts, Boy Scouts and Girl Scouts along with hundreds of volunteers will be busy distributing the Peace Light flame to churches and their families and friends all across the United States and Canada.
Once again this year, the JMJ Spiritual Connections store, located at 3408 Canfield Road in Youngstown, will be hosting the International Peace Light for distribution to the public and churches. Distribution will be during their normal business hours Monday through Thursday, from 10 a.m. until 7 p.m., and Friday and Saturday, from 10 a.m. until 6 p.m., beginning on Dec. 1 at 5:30 p.m. with the arrival of the International Peace Light and ceremony by members of Cub Scout Pack 22 and Boy Scout Troop 22 from St. Christine Parish. The International Peace Light flame will be available through Christmas Eve.
People of all faiths are welcome to receive the light and a wish for peace. Candles or lanterns are good tools to take home the light, but are not provided. It is suggested to have two people in a vehicle when traveling with the Peace Light. Supplies are on hand and can be purchased at the store for the safe transport of the flame.
On Dec. 2, the International Peace Light will arrive at the Boy Scout Shop at Camp Stambaugh, located at 3712 Leffingwell Road in Canfield. The International Peace Light ceremony will take place at 10:30 a.m. by Scouts to transfer the Peace Light flame to the Scout Shop. The International Peace Light will be available to everyone during limited hours on Tuesdays and Thursdays from 4-6 p.m. and Saturdays from 10 a.m. until 2 p.m. through Dec. 21.
The Peace Light from Bethlehem campaign was originally organized by the Austrian Broadcasting Company - ORF (Linzz), and was part of a large charitable relief mission, "Light into Darkness" for children in need in Austria and abroad. Since 1986, the Peace Light Flame is delivered by a young Austrian child to the Austrian Airlines where it is placed in two blast proof miners lamps and flown from Tel Aviv, Israel to Vienna, Austria. The Austrian Boy Scouts and Girl Guides have been distributing the Peace Light throughout Austria and with a great deal of cooperation between Scouts and Guides in many countries, the light has traveled from Vienna to more than 20 European Countries.
Austrian Airlines has been flying the Peace Light on to New York City since 2001. It arrived at JFK international airport on Nov. 25 and has traveled from there as far north as Winnipeg, Ontario, Canada and as far west as Los Angeles, California through the efforts of many Scouters and volunteers.
This year's sponsor in the United States is the Brooklyn and Queens Diocesan Catholic Committee on Scouting. They have provided for its distribution throughout North America, including Canada and Mexico. All Peace Lights originated from this American location as couriers deliver the Peace Light to various locations on the continent.
For the sixth consecutive year, the Boy Scouts of America is bringing the Peace Light Flame to Northeast Ohio and Scouts, Scouters and friends have accepted the challenge to become channels of peace by receiving the flame and passing it on to others in their communities and beyond.
In past years many groups and people have taken the Peace Light back to their churches and homes to deliver a message of peace. John Schlobohm, Assistant Scout Executive of the Great Trail Council, commented that "People appreciate the opportunity of spreading the message of Peace in their communities, this is why we are a part of this effort."
For current information about its travel across North America, check out the Facebook page, "Peace Light - North America" or the website www.peacelight.org.
More like this from vindy.com
December 1, 2017 midnight