Canfield Fair grandstand concerts Mellencamp, Carter find common ground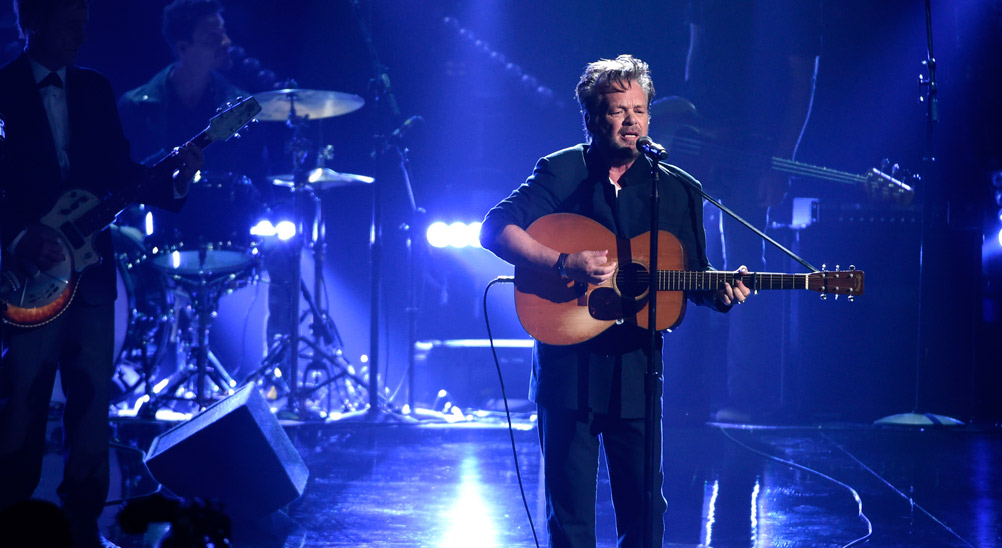 ---
By GUY D'ASTOLFO
John Mellencamp and Carlene Carter complemented each other as performers, so they decided to team up on writing songs, too.
The result is "Sad Clowns and Hillbillies," which was released in April and hit the top spot on Billboard's Americana/Folk chart and No. 3 on the rock album list. Their collaboration continues on their "Sad Clowns" tour, which will come to the grandstand at the Canfield Fair on Sunday.
At first glance, the two might not seem to have much in common.
Mellencamp is a rock and roll hall of famer who yielded a laundry list of mega-hits in the '80s. Carter, the daughter of the late June Carter Cash and Carl Smith, and the stepdaughter of Johnny Cash, is part of country music's iconic Carter family.
In a recent phone interview, she talked about several topics, including her musical marriage with Mellencamp. It started in 2014, when Mellencamp summoned her to Indianapolis to help cut a song for the film "Ithaca," for which he wrote the score. The two hit it off.
The following year, when Mellencamp was looking for an act to join him on his "Plain Spoken" tour, he thought of Carter.
"He was looking for an opener, and a lot of artists were suggested to him, but John said, 'I don't know who they are. ... What about Carlene?' [His team] was apprehensive at first, and I had been out of touring for a while, but John said, 'I want Carlene,' and he went to bat for me."
Carter said performing with Mellencamp forced her to step up her game. "He has a visionary spirit, and it made me a better musician," she said. "Plus, he has the most rocking band in the universe."
After leaving the stage one night during that 80-city tour, Mellencamp suggested to Carter that they should make a record together. She agreed to the project, which – for some reason – was supposed to be grounded in gospel music. However, the musical direction would soon change.
"It started as something different," Carter said of the album. "We were researching old hymns, and we were going to write new music based on them. But I was bringing in obscure Carter family songs, and John put together things that he had been holding on to. We had an intention, but then creativity took over."
The album has a folky and occasionally bluesy flavor, with Mellencamp's now-raspy voice adding an interesting layer of depth. The standout tracks include the single "Grandview," which features Martina McBride, and the lonely-sounding "All Night Talk Radio."
Songs contributed by Carter include "Damascus Road" and "Indigo Sunset."
For the current tour, Mellancamp and Carter have split the show into segments.
"I open the show and [the crowd] comfortable, and do 40 minutes," said Carter. "Then I try to go to the merch table for a bit. I am the hostess, and I like that job."
Mellencamp takes the stage next for two sets. After playing songs from his own career, Carter joins him for a set of songs from "Sad Clowns."
Carter, who seems to be re-energized by the collaboration, said she loves having new music to play. "Plus, I have the luxury of my own set, and I switch it up every night," she said. "If the spirit strikes, I will pull something out of my pocket."
After the tour, Carter will turn her attention to making a new album that will return to her musical roots. After 40 years as a recording artist and a lifetime as part of the musical Carter family, it's a decision that makes sense.
"When I was young, people told me, 'Get back to your roots,' but I never wanted to be a cookie-cutter type," she said. "I didn't realize it, but that's what helped me become myself – all that knowledge."
She first embraced her roots on her most recent album, "Carter Girl" (2014), which features reworked versions of songs from the Carter Family repertoire.
Carter also will headline a Sept. 26 concert at the Grand Ole Opry in Nashville, Tenn.
Mellencamp last played the Mahoning Valley in 2006, when he came to Covelli Centre. The Indiana rocker is also a painter, and he visited the area in 2013 for the opening of an exhibition of his works at the Butler Institute of American Art's Howland branch.
Sunday's concert at the Canfield Fair will mark the end of the "Sad Clowns" tour. However, Mellencamp will return to the region – without Carter – on Sept. 16 for the FarmAid concert at KeyBank Pavilion near Pittsburgh. Mellencamp is a co-founder of the annual fund-raising concert, along with Willie Nelson and Neil Young.
This year, the FarmAid lineup includes those three, along with Dave Matthews and Tim Reynolds, Sheryl Crow, the Avett Brothers, Jack Johnson, Jamie Johnson, Nathaniel Rateliff and the Night Sweats, and several more.
More like this from vindy.com