Big on flavor, big on burgers Big D's has it all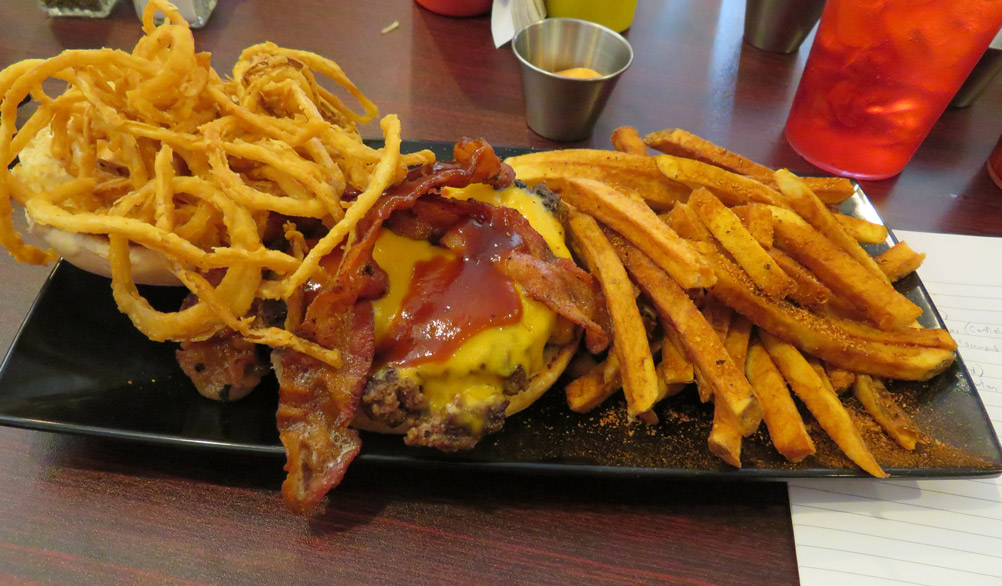 ---
If You Go...
IF GO YOU
What: Big D's Newton Grill, 327 S. Milton Blvd., Newton Falls, Ohio 44444
Phone: 330-872-3150
Hours: Mon: Closed; Tues - Fri: 11 am - 9 pm; Sat: Noon - 9 pm; Sun: Noon - 5 pm;
Menu: 14, plus a Build Your Own ($6.95 - $11.95)
Facebook page: Big D's Newton Grill
Grade: 4 1/2 stars
By Anthony M. Fuda
The old saying goes "Everything's bigger in Texas." In the Mahoning Valley, the saying should say "Everything's bigger in Newton Falls."
Yes, Newton Falls, known for the 44444 ZIP code, having the second-oldest covered bridge (1831) in Ohio, and Big D's Newton Grill.
Big on flavor, big on taste and big on burgers, Big D's burst on the burger scene winning the BurgerGuyz' 2017 Meat 16 Cheeseburger Challenge. They have a relentless following, urging us to immediately put the burger on this year's hit list.
It wasn't hard to figure out why Big D's is so popular. The menu should have two sides, one for "Burgers," and a section for "Other stuff that is not burgers."
The burger menu is endless, having a build your-own-burger that has every topping imaginable – including the kitchen sink (not actually the kitchen sink).
We were guided on our journey through burger paradise by our waitress, Theresa Nicholas.
Owner/head chef Ron Dillon has built a burger empire in Big D's Newton Grill. When you walk in, everything you see is burger-related. Trophies, knickknacks, photos and various burger gear.
Ron says, "I've been in business since December 2013, and I've been cooking for the better part of my life. It's something I always wanted to do. I decided on Newton Falls because it's where I'm from. As for the burgers I get all my meat ground fresh everyday from IGA in Newton Falls. I like to keep it all as local as possible. Right now there are 13 specialty burgers and a build your own. We also do a 'Burger of the Month.'"
Hearing that, we started salivating, and looking over the burger menu. We were ecstatic, wanting to try all the burgers, but we settled for one each. You have the option of a 1/4 lb. or 1/2 lb. burger.
Scott said, "The burger menu has a number of different burgers, and they all have a unique characteristic to them. Ron makes sure the toppings and seasonings work well together, and that makes for a great-tasting burger."
The burgers we tried are:
The Spicy Cuban (Swiss, chipotle cheese, pickles, grilled ham, grilled pork, bacon, hot honey mustard and chipotle mayo)
Breakfast Burger (American cheese, bacon, ham, hash brown, maple syrup, fried egg)
El Rodeo Burger (bacon, cheddar, BBQ sauce, chipotle mayo, onion tanglers)
Black & Blue (garlic and peppercorn seasoning, choice of cheese, black pepper bacon, blue cheese crumbles, splash of buffalo sauce with a side of blue cheese dressing.
Other burgers on the menu include MOS, Pretzel, Benedict, Dixie, Surf & Turf, BBQ Pork, Taco, Philly Steak, Pizza and the Barn Yard. Please go to Big D's Newton Grill's Facebook page to read the full burger menu, and check back every so often for the monthly burger specials.
We had our choice of regular fries or breaded fries, with Cajun, rosemary or pepper seasoning.
I had the El Rodeo and enjoyed everything about this burger. The beef was cooked a perfect medium which brought together and enhanced the different flavors of cheddar cheese, BBQ sauce and chipotle mayo. The crispy bacon highlighted this burger masterpiece for me, and the onion tanglers added its own touch of great flavor (a lot of places burn the tanglers and try to mask it with some sauce, but Big D's tanglers had a full onion flavor and stayed crispy throughout each bite). This is a burger place I will be bringing my family to many times in the foreseeable future.
Scott chose the 1/4 lb Black & Blue Burger and said, "This is the type of burger when you are halfway through you wished you ordered the half pounder! The blue cheese was not overpowering, and the splash of hot sauce brought out all the flavors."
Eric had the 2017 Meat 16 winning Spicy Cuban Burger and noted, " Since March I have been waiting for a chance to sink my teeth into this champion burger, and tonight I was not disappointed. Just the name alone, 'The Spicy Cuban' beckoned me forth, inviting me to worlds of flavor I could only imagine. Be it the combination of Swiss and Chipotle cheeses, the grilled ham and pork, the hot honey mustard, the Chipotle mayo, or undoubtedly all of the above, this burger makes a strong case as to why it deserved to be crowned the winner of the 2017 Meat 16. From first bite to last, the flavors just melded together the likes of which would make a Vulcan jealous. The beef was deliciously seasoned and cooked to the perfect temperature. I have never had a pressed burger and wasn't sure what to expect, but can assure you all that it was a pleasant bonus that I wouldn't mind seeing replicated on other burgers. Essentially, it is as it sounds: the entire burger, bun and all, is put into and cooked in a press. For my side, I took our waitress' advice and opted for the Rosemary Parmesan Garlic seasoned fries. This was an experience of its own. I've had both Parmesan and garlic on French fries in the past, but never would have thought other seasons in my rack I'd like to try. As a living legend once said, "To be the man, you gotta beat the man. Wooooo!" In my opinion, Big D's burgers show they are the ones to beat."
JT had the Breakfast Burger, and remarked, "This burger was EXCELLENT! It looked perfect and tasted even better! It's the first breakfast burger I've ever experienced that even comes with maple syrup on the side. Ron also slipped me a sample of the house made sriracha-maple syrup which I will endear for the rest of my life! I ordered mine on a bun, (you can also opt for fresh-made French toast), and it held up very well for the generous portion of toppings – including a fried egg. Referring to our late brother, John Spatar's rating system, this breakfast burger is nearly a 5 on the wet-nap scale and definitely worth a revisit! If you like burgers, give Big D's a try and you'll love them. If you already love burgers, get ready for a slice of heaven! Ron Dillon is a true burger genius!"
Ron said about Big D's burgers, "I think what makes my burgers good is that they are fresh, grilled to order and you have the choice to get whatever you want on them. I've come to notice people like new, different, layered flavors. And that's what my burgers are about."
And we couldn't agree more. If you're passing through the 44444 ZIP code, stop at Big D's and try any of the delicious burgers. Bring your appetite, because after one bite, you'll be a Big D's burger fan for life.
Keep reading the Valley food section each Wednesday for the best food the Valley has to offer.
We still have a number of burgers to try, but if you know of a place we should check out, drop us a line at BurgerGuyz@hotmail.com, or on our Facebook page BurgerGuyz.
More like this from vindy.com