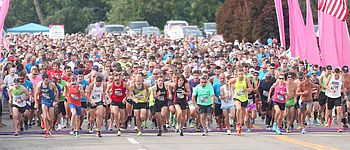 Making great strides
Published: 8/28/17 @ 12:05
By Sean Barron
YOUNGSTOWN
Those who knew the late brothers Dave and Mike Kneubehl likely were aware of their love for all things "Star Wars" – especially Darth Vader – but also knew how the siblings moved through their lives reaching out to others.
"They were very friendly and bubbly, and they loved 'Star Wars,'" Cindy Kneubehl of New Castle, Pa., recalled about Dave and Mike, who died in 2002 and 2012 at age 24 and 31, respectively, after having lost their battles against cystic fibrosis.
Given the brothers' love for one of popular culture's most iconic villains, it probably came as no surprise that their mother was part of Team Vader, one of more than 220 teams that made up Sunday morning's Panerathon 2017 10K and 2-mile walk and run that began and ended at the Covelli Centre.
An estimated 11,000 people participated in the eighth annual event to raise money for the Joanie Abdu Comprehensive Breast Care Center at St. Elizabeth Youngstown Hospital, the only facility of its kind in the city. The Panerathon also is the Mahoning Valley's largest community fundraiser, organizers say.
Sunday's event should bring the amount raised over eight years to more than $2 million, money that will support Joanie's Promise, set up to "ensure every woman in the Valley, regardless of ability to pay, will get an assessment and treatment," noted Ashlee Mauti, marketing director for Covelli Enterprises Inc.
"Together with our sponsors, participants and spectators, we have made a real difference in reducing the number of breast-cancer deaths in the tri-county area," noted Candace Madden of Boardman-based Mercy Health Foundation Mahoning Valley, which supports the JACBCC.
Funds from the Panerathon also helped to buy a state-of-the-art mobile mammography van that travels three days a week and sees about 20 patients each day, she explained. During its first year in operation, more than 500 mammograms have been performed; also, eight patients have been diagnosed with cancer and treated before it could advance, Mauti said.
"He never wanted to be defined by the disease. Church was important to Dave," said his father, Bob Kneubehl, who added his son worked as an information-technology specialist at Victory Christian Center in Coitsville, with a goal of becoming a pastor.
For his part, Mike Kneubehl was "an IT guy, too, and he liked computers," Bob said.
In addition, Bob and Cindy Kneubehl came to the event on behalf of friends and family members with breast cancer, Cindy said, adding that they have been in all eight Panerathons.
"She was heavily involved with our schools, sporting events, fundraisers for school and school trips," Jeff Bevan of Cold Spring, Ky., said about his mother, Pati Bevan, a breast-cancer survivor who works for Leebaw Manufacturing Co. in Canfield. "Anything we're involved in, she's always there and always makes time for us."
Jeff and his brothers, Mike and Steve, along with Pati's husband, Rick, and her parents, Jim and Barb Lawson, were among those who showed their love and support for Pati by being part of Team Pat.
"She's very family-oriented. She would do anything for anybody," added Mike, who, along with Jeff, played on Chaney High School's basketball team.
Jeff said his mother has been cancer-free for about a year after having first been diagnosed with skin cancer and then breast cancer about five years ago. His main reason for being part of the Panerathon, however, extended beyond his immediate family.
"I hope this event helps everyone," he added. "I hope we don't have to worry about this anymore."
Before the walk and run, organizers called for a moment of silence to remember those who have lost their battle with cancer, as well as to honor survivors.
Also offered was a º-mile Kids Run for children age 4 to 10, all of whom received medals, T-shirts and bags of supplies.
Subscribe Today
Sign up for our email newsletter to receive daily news.
Want more? Click here to subscribe to either the Print or Digital Editions.