Nonviolence week honors 'Hugs' activist, Vicars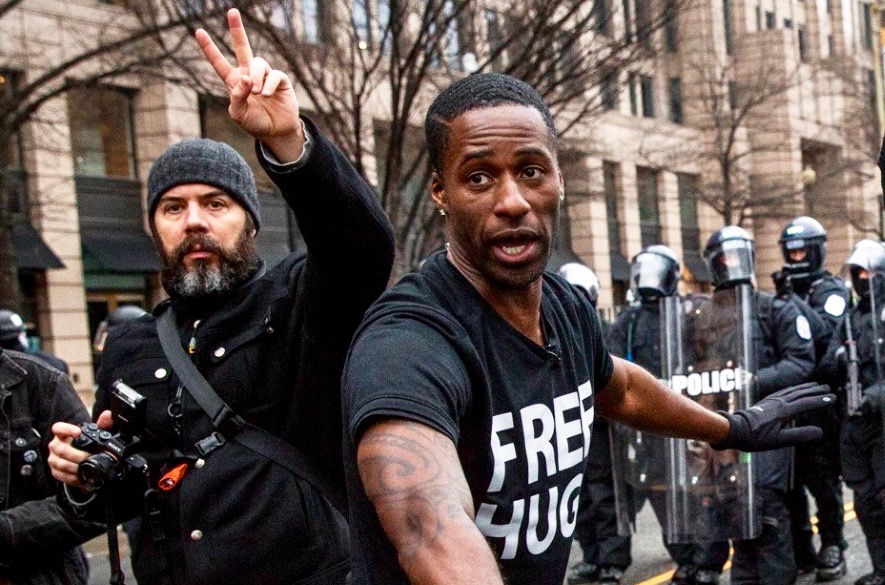 ---
This is the talk of Ken Nwadike Jr. in and around the U.S. this year:
"This man gave me a hug – and that guy wants to fight me for it."
"His police uniform does not make him a robot, just like your skin color does not make you a criminal."
"The moment we get violent, we lose everything."
"I'm a regular person, just like you, who just wants people to get home safely."
His path in life started as a homeless teen in South Central Los Angeles during the riots.
A high-school coach reached him, and Nwadike ran track in college.
The Boston Marathon bombing affected him deeply and led to a life-changing path under the moniker "The Free Hugs Guy."
And that path will lead to Youngstown on Oct. 3.
Nwadike will be the national recipient of the 2017 Simeon Booker Award for Courage.
He will be joined by Terry Vicars, a case manager for Catholic Charities, who will be honored as a local recipient of the Simeon Booker award.
The Courage award is part of October's seventh annual Ohio Nonviolence Week presented by The DeBartolo Corp.
Booker is a South Side Youngstown native whose heroic reporting in the 1950s and '60s helped galvanize America's Civil Rights Movement. His work reporting on the death of Emmett Till thrust the case onto the national stage. He continued reporting till 2007 – often putting himself in harm's way.
The Simeon Booker Award for Courage debuted in 2016 and was given to retired U.S. Judge Nathaniel Jones, a peer of Booker's, locally as children and nationally, as activists.
Nwadike Jr. of San Diego wanted to do something different for the marathon after the terrorist strike. So at the next year's race in 2014, he stood at the finish line giving hugs to every finisher.
That simple act catapulted Nwadike onto a three-year course from the finish line to the protest line. He is now found between angry citizens and police officers in American cities trying to promote nonviolent protests and preventing sides from clashing.
For this act, the Ohio Nonviolence Week committee has selected Nwadike as the national Simeon Booker honoree.
Vicars has spent his adult life standing up for others – especially the homeless, single mothers and the impoverished.
He has been a youth minister, a manager at St. Vincent DePaul Kitchen and part of the group that founded of the Dorothy Day House in Youngstown.
The Simeon Booker Award for Courage Dinner will take place Oct. 3 at the DeYor Performing Arts Center. Tickets will go on sale in September for the event. Information will be at the www.ohiononviolenceweek.org.
After the dinner will be an evening town-hall talk, "Tolerance in America," at the Ford Theater at DeYor. It will be free to the public.
The talk will feature Nwadike, Wahajiat Ali, national speaker and CNN commentator on Islamaphobia, and Anita Gray, director of regional Anti-Defamation League in Cleveland.
The event is part of the seven-day Ohio Nonviolence Week celebration that will take place in schools and facilities across Youngstown and the Valley starting Oct. 1.
More than 10 speakers and 2,000 people will take part in events that week, which include:
Seventh annual Nonviolence parade/rally Sunday, Oct. 1 in Youngstown.
An evening with Little Rock 9's Minniejean Brown Trickey on Oct. 2 sponsored by St. Patrick Church and Flambeau's on Market Street.
A presentation by the Sandy Hook Promise organization in Youngstown and Liberty.
A nonviolence evening at Barnes and Noble in Boardman on Wed., Oct. 4, with book reading, art, Youngstown Connection and more.
The weeklong celebration was launched seven years ago by Youngstown high-school students who were members of the Mahoning Valley Sojourn to the Past, organized by retired city teacher Penny Wells.
As part of that project, they formed legislation to create "Ohio Nonviolence Week" signed into law by Gov. John Kasich.
After that law, the group created a Sunday parade that first drew 500 participants and now draws 1,000.
The week is managed by a committee of citizens from across the Valley. More information can be found at www.ohiononviolence.org.
Simeon Booker dinner tickets are for sale through the site. Free tickets to the Simeon Booker evening forum are available though this site, too.
Todd Franko is editor of The Vindicator. He likes emails about stories and our newspaper. Email him at tfranko@vindy.com. He blogs, too, on vindy.com. Tweet him, too, at @tfranko.
More like this from vindy.com