43 years of Canfield's Show of Bands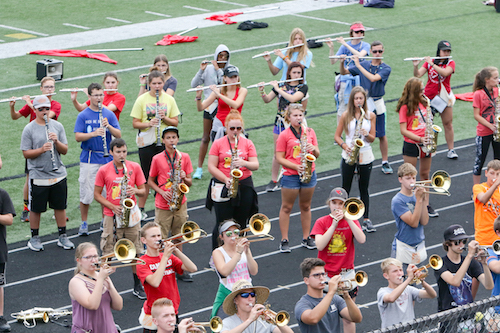 ---
By Billy Ludt
CANFIELD
As summer comes to a close, weekend nights will be filled by the sound of football crowds and marching-band performances. A musical tradition of a new school year in Canfield is the Annual Show of Bands.
Canfield High School will host its 43rd Annual Canfield Show of Bands at 7 p.m. Tuesday at Cardinal Stadium, 100 Cardinal Drive.
Tuesday evening's show will bring seven high-school bands, including Canfield, to Cardinal Stadium to showcase the marching routines they've developed over the summer. Participating school bands from Austintown Fitch, Boardman, Champion, Poland, Struthers and West Branch will travel to Canfield to perform 15- to 20-minute sets each.
"The kids have done an excellent job with band camp this year," said Jim Volenik, assistant Canfield marching-band instructor. "The sound is beautiful, and their marching is clean."
This year's show is "Dancetopia," and the Canfield Marching Band has prepared a lineup of songs falling under that theme. The band will perform Ernesto Lecuona's "Malaguena," Jennifer Lopez's "On The Floor," Walk the Moon's "Shut Up and Dance," Aaron Copland's "Hoedown" and "Adelie Rap" from the movie "Happy Feet."
"It's a wide range of eclectic music," Volenik said.
Band director Michael Kelly said the theme is decided after an opening song is selected for performance, and the rest share a cohesive trait. The songs chosen this year span a range of dance styles, from modern dance to barnyard line dancing.
The Show of Bands has always fallen on the Tuesday after the first high-school football game of the year. For other schools, this event is a football team kickoff night, but for Canfield, it's all about the music, and the year's largest fundraiser for band boosters.
"The band's doing very well," Kelly said. "Things are shaping up to where we'd like them to be."
Admission to the Show of Bands is $5 for adults and $3 for students and seniors.
Canfield Marching Band finished summer practice Thursday and performed at Friday's football season opener against the Louisville Leopards.
More like this from vindy.com